Exercise is hard. It's hard to fit into our busy lives when we're always trying to hustle. But it's arguably one of the most important things we can do to take care of our bodies. It helps us feel better and stronger. It keeps us healthy and full of life. But even though we know all that, it's still hard to do. Thankfully, there are ways to make it easier. Incentivize yourself with apps that pay you to walk!
If you're like me and need a little incentive to exercise, check out these twenty-four awesome apps that pay you for walking around town. And if you already exercise, you can add them into your daily routine to get paid a little extra for doing things you're already creating space for in your day. It's a win-win.
Apps That Pay You To Walk
While these apps definitely won't pay you enough to quit your day job, they can help beef up that emergency fund or help you save for your next vacation.
Set exercise goals, or a daily step goal amount and begin to make extra cash while you walk!
1. Rover
If you like dogs, then you might consider walking them for Rover. The app connects dog owners with local dog walkers in their area that can allow you to earn cash for walking dogs.
It's fairly easy to start making money using the app. You create a profile and dog owners in your area book you for their services. Make sure that you keep your calendar updated and you respond swiftly to any requests that come your way. The faster you respond, the more likely the customer is to book you. Then, you just pick up the dog, go on a walk. And the owner pays you using the Rover app.
While it's not as passive as some of the other apps on this list, you can make good money walking dogs using their services. You can find dog walking opportunities once you sign up.
Sign up for Rover today.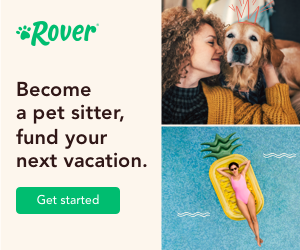 2. Wag
Wag is another dog walking app you can earn extra money with. It's helpful to download and sign up for both so that you can maximize the client you can potentially connect with.
The biggest difference between Wag and Rover is that when a dog owner wants their dog walked using Wag, the app notifies all dog walkers in the local area. But when a dog owner wants their dog walked using Rover, the app allows the dog owner to scroll through profiles and choose a walker in their area they want to work with.
But for the dog walker, there's very little difference. You create a profile, respond to requests quickly, and get paid to walk. You can make about $15 an hour walking dogs using these types of apps.
3. Instacart
Instacart is a great service to consider using. It's a grocery delivery service with two ways to make money: in-store shopper or full-service shopper.
As an in-store shopper, you are a part-time employee with flexible hours. You don't get to set your own schedule, but you could set up your availability to work on the weekends or after your day job to pick up some extra cash. You get in your steps by walking around the store shopping for other people.
As a full-service shopper, you are an independent contractor and have complete control over your hours. You shop for the customer and then you deliver the food to their house. For this, you will need a car and each customer takes a bit longer, but you have the potential to make more money as a full-service shopper than as an in-store shopper.
Sign Up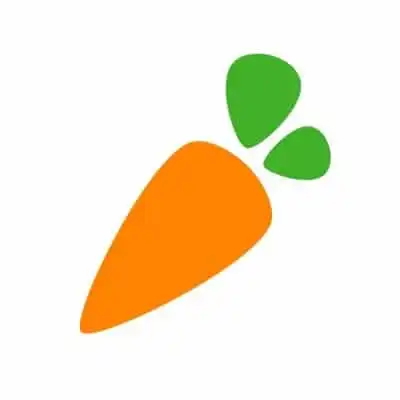 Instacart Shopper
4.5
Instacart is one of the biggest online grocery delivery companies. You can earn over $20 per hour shopping and delivering groceries to people through the app!
Pros:
Flexible Schedule - set your own hours
Fast and Accessible Pay
Tip Earning Potential
Mileage Deductions
Easy Application Process
Cons:
Vehicle Wear & Tear
Gas Costs
Apply Now
4. DoorDash
If dog walking isn't your cup of tea, you can definitely sign up for an app like DoorDash to earn extra cash. Make some extra money or even turn this into a full time job. DoorDash is an app that connects delivery drivers with restaurants to get customers food from the comfort of their own home.
While in some communities, it doesn't make sense to DoorDash by walking, if you're in a more urban area walking around town delivering food to people could definitely help you get those steps in. And if you're extra serious about working out, you might consider using your bike around town instead to get some extra cardio and make deliveries faster.
The process to sign up for DoorDash is easy. Just note that once you've signed up, it may take a week or two to be approved into the system. But after that, you're good to go.
Sign up to be a Dasher here.
Sign up for InboxDollars – another great app that lets you make easy money! Take online surveys, watch videos and more!

>>> Get a $5 sign up bonus for signing up!
5. PostMates
PostMates is similar to DoorDash in that it's a delivery app, but it delivers much more than just food from local restaurants. Along with delivering food from your local Chili's to customers, you will also be walking to department stores to pick things up. Don't be surprised if you walk to Office Depot or Lowes while working a shift for PostMates.
Again, this app might not work for you if you live in a rural area. But if your town has a good walk score, this is definitely something that you could do around your own schedule. Maybe you could get some runs done during your lunch break, or after your shift at work is over.
Sign up for Postmates here.
Earn Double: Get paid to talk to lonely people! This could be done while you're walking to your next gig!
6. HealthyWage
HeathyWage doesn't exactly pay you to get walking, so it isn't profitable. But If you're into competition and love investing in yourself, then HealthyWage could be a great motivator to get your step goal in.
The premise of the app is that you bet a certain amount of money that you'll be able to lose a certain amount of weight. If you are able to accomplish the goal you set out for yourself, you win the money. If you aren't, then you don't.
It's a high risk, high reward system, but if you place your bets right, and get those steps in, you could win up to $10,000 with their weight loss challenges and contests. This is a great way to make extra money and meet a weight loss goal. You're going to make better financial decisions as well as healthy decisions!
Sign up for HealthyWage Here.
7. Sweatcoin
The inventor of Sweatcoin decided to develop an app to pay you to walk using a digital currency, cryptocurrency. This is a great app to use if you walk to get more outdoor time in. For every 1,000 steps you take outdoors, you earn .95 Sweatcoins. Every 2,000 steps is averaged to be about one mile, based on average stride length. Steps inside will count on the step meter, but you won't be eligible to earn Sweatcoins.
With the base account, you can earn up to 5 Sweatcoins a day, and with the paid account (that costs 4.75 Sweatcoins a month), you can earn up to 10 sweatcoins a day. Redeeming Sweatcoins changes their value slightly, but 20,000 Sweatcoins is roughly $1,000.
Sign up for Sweatcoin here.
8. Lympo
If you want to add another cryptocurrency to your ways to make money walking, Lympo is another great tool. It's cryptocurrency is called LYM. And you earn it linking your device to Google Fit and completing challenges. You're issued a new challenge every day. And if you complete it, you earn LYM which you can spend on prizes in their store. The Lympo app allows you to also earn LYM by referring friends.
The main difference between Sweatcoin and Lympo is that you can earn steps for any type of walking or running. Indoor, outdoor, and treadmill walking all count towards hitting your step goal. You earn LYM tokens by taking any steps – indoor or outdoor – which is it's biggest difference to Sweatcoin. And also since you earn LYM by completing challenges.
Sign up for Lympo here.
Check out another great app that pays you! Swagbucks is the largest online rewards site. Make money online by taking surveys, playing games and watching videos!

>>> Get $5 just for signing up!
9. Achievement
Achievement is a great app to use if you have a lot of fitness devices and apps. It tracks your fitness and awards you points. You can earn points by walking, running, swimming, biking, and all sorts of other activities. You can also earn points by linking your social media to the app and tweeting or posting about fitness-related activities. Or by linking food tracking apps that measure your weight gain or loss and what good food you're putting into your body. You can earn up to 80 points per day just for logging your exercise.
The app pays out $10 for every 10,000 points you earn. You can either collect the money through PayPal or you can donate it to an Achievement approved charity. If you earn the maximum allotted points a day, it takes four months to collect the 10,000 points, so theoretically, you can make $30 a year just by being conscientious about your health.
Sign up for Achievement here.
10. StepBet
If HealthyWage seemed like a good tool because it uses social pressure and external motivation to get you walking, StepBet could also be a good fit. You wager a step bet, and then for the next six weeks, you must reach or exceed your set step count.
StepBet tracks the steps by linking to daily fitness trackers. It even suggests daily goals for you in terms of steps after taking in your current health and wellness level. That gives you a chance to see how the platform works before wagering on yourself.
To wager a bet, you put your money in a pot, and then start stepping. Most bets are around $40. If you win, you and the other winners split the pot, if you lose, you're out the wager you put in.
Sign up for StepBet here.
11. Walgreens Balance Rewards
While Walgreens Balance Rewards doesn't pay you in cash, you can earn points to use to purchase Walgreens products. If you shop there often, this could be an app worth considering.
Earning points is fairly simple. Connect it to a FitBit or other fitness device and carry on about your daily life. Walgreens Balance Rewards will use the data from the fitness tracker to tabulate your points. You can earn up to 1,000 points per month and each activity is worth a specific point amount.
It's fairly simple to earn points doing things you would normally do with a fitness tracker: tracking eating habits, walking, sleep patterns, exercise. What's especially cool is that it awards you points as an incentive to quit smoking.
Sign up for Walgreens Balance Rewards here.
12. PK Rewards
Another way to earn money for walking is to sign up for the app PK Rewards. This lucrative app is great if you already live an active lifestyle. You can earn money for things you're already doing. It's fairly easy to get started and you can start earning rewards like gift cards within your first week!
All you have to do is have your phone on you while you track your workouts and PK Rewards will do the rest. It gives you an effort score after every workout in direct correlation to how hard you worked, so the harder you worked the better your score is. And then it converts the score into virtual coins which can then be redeemed for prizes.
Sign up for PK Rewards here.
Looking for an App that pays you for taking surveys each month? Make extra money from home in your spare time. Check out Survey Junkie!
13. LifeCoin
LifeCoin Steps is a great app that will pay you to walk outdoors. It has a similar concept to SweatCoin since it only counts outdoor steps to be redeemable for prizes. You sign up for the app and it uses a GPS tracker to measure what steps were taken outdoors. Then it converts those into digital money and you can redeem the coins for prizes, like gift cards.
Sign up for LifeCoin here.
14. Fit For Bucks
Here's another great app that can link fitness tracker like Apple Watch or FitBit to help get you moving. For each step you take, indiscriminate of indoor or outdoor steps, this fitness app pays you in points. You can redeem those points for prizes in their store and towards redemption dollars.
However, the app does have a more limited selection of prizes than other apps that pay you to walk. And it is only available for iOS, but an Android app is in development.
Sign up for Fit For Bucks here.
15. Winwalk
Don't have a fitness tracker to connect to some of these apps, Winwalk might be the app for you! It's a pedometer on your phone that gives you rewards for every 100 steps you walk, up to the first 10,000 steps. After that, you have to wait until the next day to earn more points. And it also doesn't care if those steps are indoor or outdoor steps. As long as you're walking a bit every day.
You redeem points for gift cards in their store. They even have some popular ones like Amazon, Walmart, and Starbucks. So there are a lot of different options to fit your consumer needs.
Sign up for Winwalk here.
16. FitPotato
Another Apple only App, FitPotato is an app that allows you to place bets with your friends. As the other betting apps, if you win the bet, you get to earn some money. But different from the other betting apps is that there is a social component. You can challenge both your friends and other FitPotato users to place bets and get fit together.
You can also participate in weekly prize groups and challenge other FitPotato users to get in some extra workouts. In order to win the prize, you need to complete three exercise sessions in seven days.
Make money from home or on the go!
Sign up for FitPotato here.
Check out Acorns – an app that invests for you, using your spare change!
17. Runtopia
Runtopia is an app that will give you rewards for running, walking, or jogging, and it rewards you with coins that can be redeemed for prizes. But it will also act as your own personal trainer. Earn sports coins, they expire one year later, every year on March 1st.
While you're working out, it has audio coaching to keep you motivated to complete your workout and it gives you data on your workout like calories burned and number of steps per minute.
Sign up for Runtopia here.
18. FitFetti
FitFetti is an iOS app that connects to your FitBit and rewards you for meeting fitness goals, like step goals. While it doesn't pay you money, it partners with companies interested in your health.
Those companies will "sponsor" you to encourage you to complete your goals. If you do, you earn free products and discounts, and the more times that you achieve your goals, the more sponsorships you can unlock.
Sign up for FitFetti here.
19. Charity Miles
Want to do some financial good in the world, but are strapped for cash? Then Charity Miles App is the app for you! It won't pay you to walk, but it will donate to charities if you take more steps. It's a great way to get more active and give back to the community. You can even choose the charity from a list of nonprofits they support.
Charity miles tracks your movement, and for every mile you move you earn money for your favorite charity. Some of the charities they sponsor include St. Jude Children's Research Hospital, Wounded Warrior Project, ASPCA, World Wildlife Federation, Multiple Sclerosis Society and so many others.
Like many other apps, it uses the GPS function on your phone to track your movement, but there's a catch. Unlike other apps who track your movements automatically, you have to go into the app to turn on the tracking feature before any physical activity in order for the steps to count.
Sign up for Charity Miles here.
20. Higi
Higi connects with a fitness tracker and rewards you for a lot more than walking. They track things automatically, so you just have to connect the device to the app and carry on with your daily life. They will give you points for tracking weight, blood pressure, pulse, and more. They also recognize different activities like health station check-ins within the app and exercise.
They even have monthly and weekly challenges in the app that you can complete for more rewards.
Once you've collected your rewards, you can redeem them in their app for different gear and good coupons. They don't give out cash, and you generally have to purchase things through the app to get the discounts, which is something to keep in mind. But if you already shop for health gear, it could be a great way to save money.
Sign up for Higi here.
21. MapMyFitness
MapMyFitness, and its sister apps like MapMyWalk and MapMyRun, partnered with Under Armour to bring you great products for working out. While this isn't exactly paying you to walk, there are still plenty of opportunities to earn amazing swag. You just need to connect your fitness tracker to the apps and start tracking your fitness through them.
Sign up for the Map My Fitness app here.
22. Gigwalk
Gigwalk is a great way to earn money walking around town. You are paid to do gigs for different companies. And the more gigs you complete for the app, the better-paying opportunities you'll receive.
So the longer you have and use the app, the more money you could make. Those could be things like mystery shopping or taking pictures of displays for quality control.
Sign up to be a Gigwalker here.
23. Job Spotter
If you're in an urban area, Job Spotter could be a great way to get steps in and make some extra cash. It doesn't pay you to walk but it gives you a fun activity to do on your walk. The app is very simple to use. You just take pictures of help wanted signs in the area you're walking in. This is great if you're out running errands or out for a stroll on the town!
The payout is anywhere from $0.10 to $1.00 depending on how often the sign has been photographed before and how much they're willing to pay for it.
Sign up for JobSpotter here.
24. Become a Human Billboard
Becoming a human billboard could be a great part-time job if you're looking for a slightly more stable income that still gets you moving. Stores hiring human billboards, or sign spinners, typically pay minimum wage, but even a few extra hours a week could help you become financially independent sooner.
The best way to find jobs is by watching job boards in your area.
Maximize Your Rewards by Walking
Exercise is hard. We all know that. But these are some of the best money making apps that give you and me an incentive to exercise more. Just keep in mind these apps won't let you get rich quick or earn a lot of money fast. Slow and steady wins the race!
But who doesn't want an app that will pay you to walk? Getting paid for exercise activities that help you stay active or lose weight is a great way to make use of your activity tracker devices such as a wristband or cell phone.
So what are you waiting for? Download some apps today, and soon you'll be walking your way towards a better financial future!
Samantha Hawrylack is a personal finance expert and full-time entrepreneur with a passion for writing and SEO. She holds a Bachelor's in Finance and Master's in Business Administration and previously worked for Vanguard, where she held Series 7 and 63 licenses. Her work has been featured in publications like Grow, MSN, CNBC, Ladders, Rocket Mortgage, Quicken Loans, Clever Girl Finance, Credit Donkey, Crediful, Investing Answers, Well Kept Wallet, AllCards, Mama and Money, and Concreit, among others. She writes in personal finance, real estate, credit, entrepreneurship, credit card, student loan, mortgage, personal loan, insurance, debt management, business, productivity, and career niches.