It seems to be the goal of many nowadays to freelance and have home based jobs. Over the past decade, with the advances in technology, this has become more realistic than ever. However, one of the problems that is faced by many people is determining whether an opportunity is a work from home scam or not. Many TranscribeMe reviews can leave you wondering, but this one won't.
It's widely known that online transcription jobs can offer some of the best solutions to make money online from home every month. TranscribeMe is a company that many people look to for this purpose if they enjoy typing. You won't be interested in this job if transcription work can become repetitive and dull at times.
While there are plenty of resources out there, it's best to conduct your own research to see if a job is legitimate or not. Read this comprehensive TranscribeMe review to determine if TranscribeMe is an appropriate side hustle for you.
What is TranscribeMe?
TranscribeMe is simply a company that outsources transcription and translation to people interested in working from home. Those interested in transcribing audio are asked to do the following:
Listen to audio and video files and,
Produce text to match what they are hearing.
Each step of the process is completed right on their website.
Once you gain experience in their transcribing roles, you can apply for proofreading and editing jobs as well. All of these data entry transcribers are hired in a freelancer / independent contractor capacity.
How Does TranscribeMe Work?
First, the audio or video files are received by the TranscribeMe site moderators. The moderators will examine the audio files through advanced speech recognition software that primarily uses the Nuance engine.
Once the audio files are carefully examined, they are divided and split into sections that will depend on the overall length of the original audio file. The smaller split audio files are then posted onto the TranscribeMe job board called "Workhub," and this is where the transcriber comes in.
All of the transcriptions are crowdsourced to humans, and it will be their job to type everything they hear as accurately as possible. Everything you listen to is played through the onsite transcription software, and once this task is complete, you submit your work.
The transcriptions you provide will be manually compared to the audio file to ensure accuracy. Once each of the split sections are transcribed, they will be combined together to match the original audio source before distributing it back to the client.
Is TranscribeMe Legit?
One factor that people cannot seem to find from most TranscribeMe reviews is just how legitimate TranscribeMe is. Online reviews seem to vary and provide different stories. However, TranscribeMe is legit.
In fact, as far as work from home companies go, TranscribeMe is possibly one of the most popular transcription companies out there due to it's straightforward nature.
When it comes to working for TranscribeMe, there is one thing you should not underestimate — how tough transcription can be. It's quite a tricky skill to master, so if you want to earn some cash, it's worth honing this skill before you consider working with TranscribeMe.
If, however, you want to enhance your skills on the job, TranscribeMe is also open to working with beginners, and there are no arduous tests to pass before joining.
We couldn't find any reviews suggesting this was a work at home scam or claims of any other scams relating to TranscribeMe for that matter.
What is the TranscribeMe Application Process?
The hiring process for TranscribeMe is a simple one, and you don't need any prior experience or to live in a certain location. The barrier of entry is very low also because of no equipment requirements. However, you must have a high school diploma, speak and write fluently in English, have access to internet (high speed internet helps), and have fast typing skills.
Apply for the Job. The first step you need to take is to register online. You will need to fill in some basic information — there is nothing intrusive and no need to fill out work history.
TranscribeMe Overview. The next step is watching a short explanation video that will guide you through the whole application process. You'll also learn how the transcription process works and how to navigate the TranscribeMe website.
Entrance Exam. The final step is the entrance exam. While the word "exam" may strike fear into some, this one is rather easy. You will only need to answer two multiple-choice quizzes on their styling guide. Just be sure to review their style guides before testing to give yourself the best chance. You must score 100% on this portion.
Then you also have to transcribe three audio clips that are around six minutes long. You have three attempts to retest, if needed. You need to score at least 98% on this portion in order to get accepted.
Should your transcription pass the accuracy requirements, you are accepted into the program. Then, you can start making money online each month all while working from home!
If you want to hit it out of the park, try out the best Headphones and Foot Pedals to ensure precision and typing speed.
What Does TranscribeMe Pay?
So, now that you know that TranscribeMe is legit, you may also wonder how much they pay.
There are a ton of TranscribeMe reviews out there, and every one of them says different things about what TranscribeMe pays. Well, here are the real figures!
When looking at TranscribeMe pay, you can expect 33 cents for every audio minute you transcribe.

When you work basic calculations on this, you can earn up to $15-$20 per audio hour.

However, if you are very accurate, there is a $2 bonus per hour that will boost your maximum earnings as a newcomer to $22.
With little to no experience and having the ability to work at home, the pay rate is fairly decent.
Please note that the industry standards say that it takes 4 minutes to transcribe 1 minute of audio. This is why it's so important to be efficient. The more quickly you can decipher and transcribe the audio, the more you will get paid. For those who don't know, a foot pedal may increase your audio transcription speed.
TranscribeMe does offer the occasional opportunity for special requirement files as well, which will require that you speak another language. This means that if you're multilingual, you can potentially begin earning money above the normal rate.
You can also make more if you are able to translate medical and legal audio files due to their complexity and uncommon terminology. Legal transcription and medical transcription services also have the potential to earn extra cash.
TranscribeMe makes payments weekly via PayPal. Providing you have a minimum of $20 in your account, you can request a payment. You should know that they do not offer other payment methods at this time.
On average, you could make between $150 – $250 in extra income per month.
TranscribeMe Review: Boost Your Income as a Transcriptionist
Overall, TranscribeMe is legit and can be a great addition to your existing income as a part time job where you have a flexible work at home job. You probably would not be able to use TranscribeMe as a full time job, though. The availability of jobs would not provide a sufficient income, unlike what some TranscribeMe reviews may say.
Glassdoor gives TranscribeMe a 4.1 star overall review, among other work at home jobs.
There are many higher-paying jobs out there, or you can build up your own business.
However, if you are looking for something to add to your portfolio of work from home jobs and jobs where you work alone, TranscribeMe could be one of the better options available. It's easy to sign up for, flexible to your schedule, and available all over the world.
Depending on your typist skills and how many words per minute you're able to write – TranscribeMe may be a good option for a stay at home mom.
Start making extra money with TranscribeMe today!
Check out the video review below from NoScamReviews talking about TranscribeMe if you want to learn more.
Have you ever used TranscribeMe to make extra money? If not, will you start after reading this TranscribeMe review? Let us know in the comments!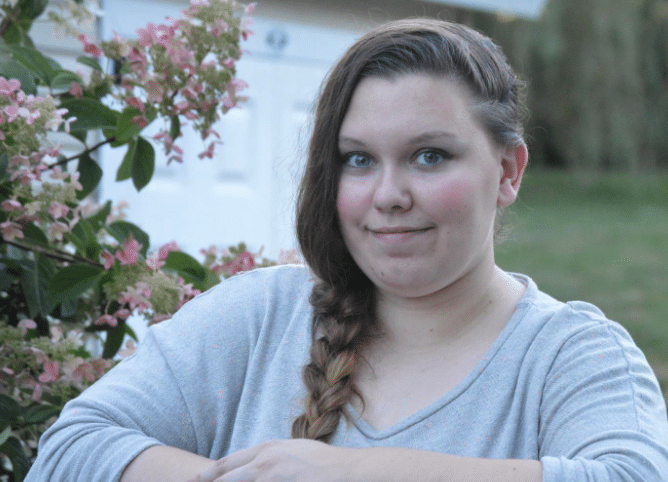 Samantha Hawrylack is a personal finance expert and full-time entrepreneur with a passion for writing and SEO. She holds a Bachelor's in Finance and Master's in Business Administration and previously worked for Vanguard, where she held Series 7 and 63 licenses. Her work has been featured in publications like Grow, MSN, CNBC, Ladders, Rocket Mortgage, Quicken Loans, Clever Girl Finance, Credit Donkey, Crediful, Investing Answers, Well Kept Wallet, AllCards, Mama and Money, and Concreit, among others. She writes in personal finance, real estate, credit, entrepreneurship, credit card, student loan, mortgage, personal loan, insurance, debt management, business, productivity, and career niches.