Last week we had over half a foot of snow and the average temperature was below freezing. Luckily instead of freezing at home, we traveled to the Dominican Republic where the weather was 50-60 degrees warmer.
This was our first time visiting this beautiful country and we know it won't be the last time we come back here. We opted to have a rather relaxing week spent lounging by the pool and on the beach.
In this week's post we're going to outline our most recent week-long trip to La Romana, Dominican Republic in March 2019. Read about how we got there, where we stayed, what we ate, and so much more. Continue reading to learn more about travel hacking the Dominican Republic.
Flights
We had an excessive amount of Southwest Rapid Rewards points along with our Companion Pass, so we decided to book a Business Select ticket. We included the $50 upgrade for Early Bird Checkin.
John ended up getting A2 and A1 boarding positions for these flights. Having the extra leg room in the first row was more than worth the extra points!
Transportation
After spending some time reading reviews, we ended up booking with DominicanAirportTransfers.com. We found them on Trip Advisor, they're #1 for transportation in Punta Cana. Almost 5-star review average out of 6,000 reviews. They provided water, were friendly, spoke decent English and drove safely. We would recommend this company.
For our roundtrip private transfer to and from the Punta Cana airport we paid $168. We had a well air conditioned 12-person van that picked us up at the airport and drove us to the hotel. A similar van took us back to the airport and arrived at the hotel early.
To get to and from the airport back home we love using Fast Park. No more bugging friends and family members for a ride to and from the airport. No waiting for a ride and trying to coordinate a pickup time. Fast Park makes it super easy and stress-free for us when we travel.
We've never waited longer than 3 minutes for a ride from the airport to our car. Their parking lots are minutes from the airport. (They even cleaned the snow off of our car for us!)
Fast Park is currently offered at these locations: ABQ, ATL, AUS, BWI, MDW, CVG, CLE, IAH, HOU, IND, MEM, MKE, MCO, RDU & TUS. If you'd like to get 1 free day of parking, click here!
Hotel
For our hotel selection, we debated using Chase vs Hilton points. We had just under 200K Hilton points left. After doing some research, we decided to go with Hilton. Back in October 2018, Hilton purchased Dreams in La Romana. They've been sinking a lot of money into the property to make things even more luxurious. As of March, about 35-40% of the hotel is under construction. We didn't once hear any noise from the construction, and didn't even notice any of the ongoing activities. They did a great job walling off the part of the hotel that is being renovated. Not to mention, the resort had a lot less of a crowd, to our advantage!
Our total cost for the hotel, combined with our Hilton points was $527.70
If you would've booked the room we got upgraded to, the cost is: $3,515.51
Interested in Signing Up for a Hilton Credit Card?
We both have signed up for this card. You can earn up to 150,000 points after you spend $3,000 in the first 3 months.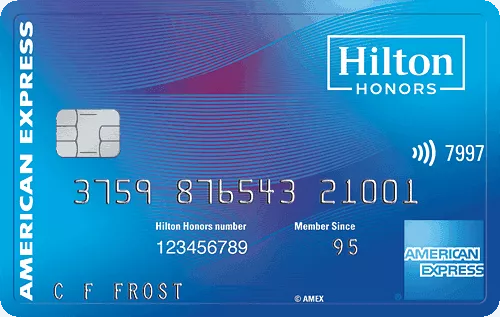 Premium Club + Perks
This resort offers a series of rooms that are "Premium". Because we are Hilton Honors Gold status members we received a free upgrade to a premium room. Keep in mind, you are not guaranteed to have an upgrade to one of the premium rooms. The gold status only guarantees a room upgradefrom the room you booked.
The perks of this grant you access to a premium guest onlyclubhouse/lounges, pool, beach and bars. You also get upgraded bath amenities as well as an upgraded mini-bar (the mini bar is included for free).
The premium bars and clubhouse stock better liquor and beer all included for free. Examples of the liquors include: Chivas 12, Johnnie Walker Black & Red, Absolut, and Stoli.
We ate breakfast most mornings at the premium club. They had a wonderful assortment of yogurts, cereals, breakfast bars, bagels, croissants, meats, cheeses and nuts. From around noon until 11pm they have an assortment of hors d'oeuvres served that varied each day.
The premium guest only pool and beach areas were significantly less crowded than the "normal" areas. We enjoyed poolside (and in pool!) and beach side drink service as well as burgers/sandwiches at lunch time each day.
Transitioning from Dreams to Hilton
As mentioned earlier, this property was previously owned by Dreams. We asked a few people what they thought of the transition and all of them said it was a positive change.
Since most of the employees work for a third party they were able to keep the contract intact with Hilton. This meant no one lost their job in the transition. We loved hearing this!
Below are a few things we got in response to asking them some questions:
"I love my job, it's what allows me to put my kids in better schools and provide a place for my family to live."
"It's the best job I've ever had, all thanks to the generous guests who appreciate my hard work."
"Hilton is a much bigger name than Dreams. There have been a few months of uncertainty but we all know Hilton will be much better for all of us long-term"
Activities
The resort offers a ton of free activities for kids & adults. We enjoyed watching some of them by the bar at night. Some of the free activities the resort offered include:
Spanish lessons
Yoga
Zumba
Belly dancing
Magic show
Live music
Bingo
Kids movie night
Hula-hoop competition
One activity that was highly recommended to us was 7 experiences for the price of 1. La Hacienda : $119 per person. This includes: a 4×4 excursion, zip-line, bungee jumping, horseback riding, a chairlift, safari adventure and Dominican food.
There was a ton of boating/snorkeling experiences to choose from. They started around $70 per person. Up to $180, for a full all-day (10 hour) extensive package.
Since we're both in school for our Masters & have been super busy working, we chose not to partake in any paid activities during this trip. Our last Caribbean adventure was jam packed with too many activities and we felt like we didn't get to enjoy the beach or pool very much.
Food
Even though half the resort was under construction during our stay, the staff still managed to keep all of their restaurants open. The Italian and French restaurants remained open every night, while the Steak, Asian, Mediterranean, and Caribbean restaurants rotated to allow two per night.
Given that our resort was all-inclusive, we did not pay for our meals or drinks (alcoholic or nonalcoholic), unless we purchased a bottle of wine with dinner. Gratuity was also included in our cost, but we always choose to additionally express our gratitude to those who take care of us.
Check out this awesome article on how a couple traveled for a whole year for only $7,000 total!
For breakfast, we chose to eat at the premium club house the majority of the days. They had a vast spread of bagels, meats, cheeses, and other breakfast items. It allowed us to have a light meal so we weren't too full and still able to take on each day. We ate at the buffet once and it was delicious, but definitely too much food to consume on a regular basis.
For lunch, we would have burgers, sandwiches or hotdogs from the bars near the pool or beach.
Dinner Options
One of the biggest setbacks we ran into with dinner is John's dairy allergy. The language barrier made it difficult to explain to the servers. This is the main reason we did not try the French or Mediterranean restaurants. All of the dishes on the menu were made with dairy, and we were concerned that John would not be able to get this across to them.
So instead of risking being sick on vacation, we opted to stick with what we knew would be safe. The other restaurants we ate at had options that we could safely pick and know that they did not contain dairy.
1st Night: FREE room service + FREE bottle of champagne! (We were quite tired from our long day of traveling.)
2nd Night: Asian restaurant
3rd Night: Italian restaurant+ Bottle of Champagne
4th Night: Buffet
5th Night: Private Meal on the water – Steak/Grill (Details Below!)
6th Night: Italian restaurant
7th Night: Private Meal on the water #2 – Steak/Grill (Details Below!)
Since we decided to make this a relaxing and carefree trip and not take part in any excursions, we made a reservation for a private dinner on the ocean. Our table was set on their lengthy pier away from all of the other restaurants. Our table had a formal place setting, flowers, and candles. Additionally, we had a four-course meal and wine served by our private waiter. We've never spent three hours eating dinner before, but this experience was like no other.
It was nice to listen to the waves crash while watching the sunset, and enjoy each other's company in the peace and quiet.
We had such a great night, that we decided to do it again! Take a look at the picture below to get an idea of what our perfect nights on the water looked like.
Private Dinner Options
ON WATER: Spend $100 or more on wine, you get to pick which restaurant that was open that day to order from
NEAR WATER: Spend $40 or more on wine, you get to pick which restaurant that was open that day to order from
LOBSTER Wednesday Night· $90 pp sitting on beach, included 1 bottle of wine and all you can eat lobster for 3 hours
Souvenirs
One night a week there is a variety of local vendors that came to sell their products for a couple of hours. While we won't discredit all of them, we wouldn't buy anything from most of them – in fact we would recommend avoiding them altogether. They're like vultures and will guilt trip you into feeling like if you don't buy from them today that they will go hungry tomorrow. We've experienced this at other places in the Caribbean but this experience topped them all.
We walked up to one table where a gentleman was claiming to be selling "handmade" Larimar bracelets and necklaces. Sam selected a bracelet that looked nice. He explained that his normal customer gets charged 7$ per stone in the bracelet, of which there were 7 stones so $49. We didn't respond for a moment, and the price went to $42, because he liked us. John recalled seeing some similar-looking jewelry in the gift shop.
We walked away to go see what the gift shop charged, because we didn't recall seeing anything priced that high. Turns out they were selling the exact same bracelet for only $8, as well as several of the necklaces we noticed on his table, for a fraction of the price.
The main gift shop had a one-hour special where everything was 40% off from 5-6pm on Thursday. We purchased a couple of souvenirs while this deal was going on.
Another great tip we found was to only buy bottles of alcohol from the bar (unless you can get it during the hour gift shop special, but not every bottle is available there). They were cheaper by 30-50% depending on the bottle.
Miscellaneous
Unfortunately, we forgot to pack aloe and didn't even think to bring any bug spray. Ouch. Make sure you bring these with you as well as plenty of sunscreen.
Aloe from the gift shop was $25 and bug spray was $20.
If you need to take additional cash out, the ATM will disperse (DOP) pesos (~50 DOP :1 USD) for the current exchange rate, plus a small fee of $4 USD. The shops do accept credit cards, for a fee.
Tipping
This is an all-inclusive resort, and you're not required to tip anyone. However, we like to show our gratitude to people who go the extra mile to ensure our vacation is wonderful. We tipped everyone who we thought deserved a little extra, because they went a little further than what was expected of them. We ended up tipping approximately $200 during our stay.
While that might sound like a lot of money, we estimate that we interacted with people 30+ times per day between food and drink exchanges. Yes, we got our money's worth of alcohol!
Final Notes
We ended up spending $1,486 on this trip, but this could've been further reduced to $959 had we saved more Hilton points. Our expenses were $497 for souvenirs, tips & private dinners.
We're still happy to have saved over $4,400 on this trip by using reward points!
Samantha Hawrylack is a personal finance expert and full-time entrepreneur with a passion for writing and SEO. She holds a Bachelor's in Finance and Master's in Business Administration and previously worked for Vanguard, where she held Series 7 and 63 licenses. Her work has been featured in publications like Grow, MSN, CNBC, Ladders, Rocket Mortgage, Quicken Loans, Clever Girl Finance, Credit Donkey, Crediful, Investing Answers, Well Kept Wallet, AllCards, Mama and Money, and Concreit, among others. She writes in personal finance, real estate, credit, entrepreneurship, credit card, student loan, mortgage, personal loan, insurance, debt management, business, productivity, and career niches.