DoorDash is one of the most popular gig-sharing apps, but it's not the only one. While it's popular, there are DoorDash alternatives that might make you more money in certain areas.
Sometimes it's not even about the money, but rather the fact that some drivers don't want to deal with delivering on-demand food. It can be tough to ensure the food is packaged correctly, delivered hot, and that customers are happy.
If you're looking for DoorDash alternatives, we've narrowed down the best competitor delivery platforms.
Are There DoorDash Alternatives?
DoorDash is one of the most well-known delivery apps, but there are alternatives. So whether you want to increase your chances of making money by working with more than one app (gig stacking), or you want nothing to do with delivering food from local restaurants but don't mind working for other delivery services, we've narrowed down the top DoorDash alternatives to help you.
What Can I Do Instead of DoorDash? Best Apps Like DoorDash
DoorDash is a great app; for many drivers, this food delivery platform works great. However, it's not popular in all areas, and some people don't like dealing with the competition of getting orders. So here are some great options if you're looking for alternatives to DoorDash and the food delivery business.
1. UberEATS
UberEats is the most popular DoorDash alternative because it's just like it. Customers order food from the online and mobile platform, and you pick it up from local restaurant partners and deliver it. Like DoorDash, drivers get paid per food delivery, which usually includes a pickup, delivery, and per-mileage fee.
Drivers also keep 100% of the tips customers pay and can choose which orders to accept. Like Uber, Uber Eats drivers get rated by their customers, and the better ratings you have, the more orders Uber Eats will offer you.
Earnings Potential
On average, Uber Eats drivers make $19.56 an hour. This salary includes the base pay from Uber Eats plus the average customer tip.
Pros
You set your own hours
You choose which orders you accept
You don't have to share customer tips
Cons
Can be a lot of competition in some areas
Uber Eats charges drivers a percentage of their earnings to use the platform
Bad ratings can prevent you from getting orders
Standout Features
Your car doesn't need to meet specific requirements as long as it's reliable
You can cash out instantly after completing an order (for a small fee)
You can have a passenger in the car when delivering for Uber Eats
2. Roadie
Roadie is a great Doordash alternative if you don't want to deliver food or people. Instead, you deliver shipments for companies that need them the same day or the next day. Before accepting an order, you'll know its dimension, pickup and dropoff locations, and the guaranteed payout.
Earnings Potential
According to Roadie, the average Roadie driver makes $13 an hour on local trips and more on longer trips.
Pros
Has great customer support
You keep 100% of the customer tips
You can deliver with a car or truck; they tailor the deliveries you're offered based on what you can handle
Cons
Roadie doesn't offer any insurance coverage while driving for them
The demand can be hit or miss
If you don't get good ratings, Roadie could drop you
Standout Features
You can take multiple orders going in the same direction and make the most of your time
You can accept deliveries that go across town or even state lines to make more money
Roadie pays drivers weekly
Related Article: Best Food Delivery Service to Work For: 13 Lucrative Options in 2023
3. GrubHub
GrubHub is a food delivery service a lot like DoorDash. Customers utilize mobile food ordering, and you pick up and deliver the food. GrubHub pays drivers based on the mileage and time on the road picking up and dropping off orders. Like DoorDash, drivers keep 100% of the customer tips.
Earnings Potential
GrubHub drivers make an average of $20 an hour, but that's often before customer tips and any special missions or promotions.
Pros
Drivers can request an instant payout of up to $500 earnings per day
You can set your own schedule
GrubHub offers guaranteed minimum earnings
Cons
GrubHub isn't available in all states
You must schedule blocks or say when you're working, and the 'best blocks' are reserved for drivers in higher tiers
Customer service isn't very good
Standout Features
GrubHub runs missions that help you boost your income if you meet them
GrubHub pays every Thursday for the earnings from the previous week
Drivers can work their way up to different tiers; the higher you get, the better orders and blocks you get
4. Instacart
If delivering restaurant food doesn't appeal to you, but you love to shop, consider working for the delivery company, Instacart. With Instacart, you shop for customers' orders at grocery stores and deliver the items to their doorstep. In other words, workers are personal shoppers for grocery delivery.
It takes longer to handle a single order because you are the shopper too, but you might make more tips since the delivery orders are usually much larger.
Beware, though, when you do grocery delivery for Instacart, there's more customer interaction because you're shopping for their groceries. In addition, you must contact them to discuss their options if grocery stores are out of the food they need, so there's a higher demand for communication.
Earnings potential
Instacart drivers make an average of $17 an hour in base pay. This doesn't include any customer tips or promotions.
Pros:
You are constantly moving rather than sitting in a car waiting to pick up an order
You choose the orders you pick up and deliver
You can take multiple orders and work in batches
Cons:
Can be hard to get good orders if you don't have good ratings
You might not be busy if you live in a small city
You'll put wear and tear on your car
Standout Features
You can communicate with the customer through the app if you have questions about their order
You use an Instacart card to checkout, not your own money
If you have good ratings, you have the potential to get large batches that pay $30 – $50 for one order
Sign Up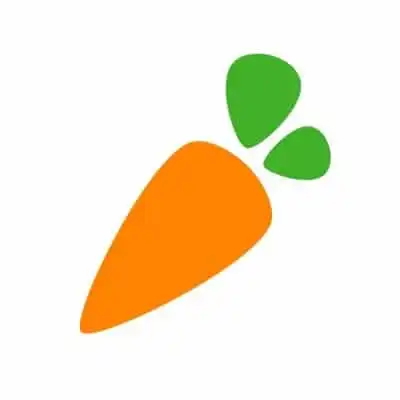 Instacart Shopper
4.5
Instacart is one of the biggest online grocery delivery companies. You can earn over $20 per hour shopping and delivering groceries to people through the app!
Pros:
Flexible Schedule - set your own hours
Fast and Accessible Pay
Tip Earning Potential
Mileage Deductions
Easy Application Process
Cons:
Vehicle Wear & Tear
Gas Costs
Apply Now
5. Favor
Favor, owned by HEB, is located in Texas and delivers whatever their customers need, whether groceries, restaurant food, dry cleaning, or anything else. It's easy to sign up, but you must live in Texas to drive for them.
Earnings Potential
Like DoorDash, Favor pays a percentage of the delivery fee, and you keep all the tips. Favor drivers average $18 an hour.
Pros
Not a lot of requirements to drive for them; you must be 18 and have a reliable car
You can earn cash if you refer friends to Favor
Favor drivers are considered personal assistants, not delivery drivers
Cons
Favor is only in Texas
It's not as well known as DoorDash
Standout Features
You choose your hours and which deliveries you want to take
Favor often guarantees a certain hourly wage
You can deliver on bike if you don't have a driver's license or insurance
6. Shipt
Shipt is a DoorDash alternative that offers grocery delivery. Owned by Target, Shipt shoppers can work in-store as a shopper or on their own as on-demand delivery service drivers. Like Instacart, full-service drivers shop for grocery orders and deliver them.
Earnings Potential
The average Shipt full-service shopper makes $18 an hour. However, this can vary by location and experience.
Pros
Shipt shoppers get a free Shipt membership for free shipping
You are allowed to shop for multiple orders at once
The platform is transparent, so you know how much you'll make before accepting orders
Cons
Shipt isn't as widely known as Instacart, so it can be harder to get orders
The selection process is time-consuming and harder to pass
Standout Features
Despite being an independent contractor (you have your own food delivery business), Shipt offers its shoppers many benefits, including discounts on gas, auto services, and certain health services
Shipt shoppers must wear a Shipt shirt
Shipt is in 5,000+ cities
Get Paid to Shop!
Shipt Shopper
4.0
Shipt is one of the largest online grocery delivery companies. Select deliveries and earn upwards of $20 per hour shopping and delivering groceries to people through the Shipt App!
Pros:
Flexible Hours - Take or Leave Orders at Your Leisure
Paid Per Order - Higher Earning Potentional Including Tips
Easy User-Friendly App - Easy Customer Communication
Free Shipt Membership
Set Distance and Proximity of Orders to Fit You
Cons:
Usage of Your Vehicle
Gas Costs
Must-Shop Alone
App Glitching is Often Reported
Competing for Orders with Other Shoppers - First Come First Servce
Apply Now
7. Amazon Flex
Amazon Flex offers many opportunities for drivers. For example, you can drive for Prime Now or Amazon Fresh and pick up and deliver groceries and household essentials.
You may also deliver packages for Amazon, picking them up from an Amazon delivery station and delivering them to the customer, or pick up orders from local stores and deliver them.
Earnings Potential
The average Amazon Flex driver makes $18 – $25 an hour, but it depends on your location, delivery demand, and tips.
Pros
You choose the days you want to get paid and can change them as frequently as needed
You can choose scheduled blocks with deliveries already scheduled, so you know how much you'll make for that shift before accepting it
Instant offers may become available, which are shifts that need to be covered at the last minute, giving you more opportunities to make money
Cons
You must be able to lift heavy packages
There may not be a high demand in your area
Standout Features
You have many options between all the Amazon programs to deliver for
As you gain experience and have good reviews, you can have blocks reserved for you that only you can see and accept to increase your earnings
You get paid by the number of orders you complete, so if you have a larger vehicle, you can make more money
8. Delivery.com
Delivery.com offers delivery of many items, including food (from southern comfort to authentic Asian food!), on-demand alcohol, laundry, and groceries. It's a New York-based company, but they have locations throughout the country.
Delivery.com has some of the most relaxed guidelines for drivers, but they choose drivers based on the hours they want to work to ensure they don't take on too many drivers wanting the same hours.
Earnings Potential
Delivery.com drivers make an average of $17 an hour, but the pay varies based on the type of service you're offering.
Pros
It's easy to get approved to drive for Delivery.com if you have a car and pass the background check
Delivery.com offers many services, which means more hours and income for drivers
There isn't as much competition since it's not a well-known company
Cons
Customer service leaves a lot to be desired
Standout Features
You have variety when offering your services; it's not just food delivery like DoorDash
Delivery.com offers direct deposit
9. Point Pickup
Point Pickup is a delivery service that allows drivers to choose their routes and hours. When there are orders that match your criteria, you'll receive an alert. Then, point Pickup matches you with the deliveries, and you make money.
It's a good DoorDash alternative because you don't have to drive around aimlessly hoping to get orders online or in the app. Instead, you stay home until you have a route and pick everything up at once.
Earnings Potential
The average Point Pickup driver makes $15 an hour.
Pros
It's easy to get approved as long as you are 18 years old and pass a background check
You set your schedule and get alerted when there are deliveries available during that time
Drivers get paid via direct deposit 48 hours after delivery
Cons
You may need a large vehicle to accept orders
It's not as well known as DoorDash
Standout Features
You don't have to worry about parking, positioning yourself in a popular area, or fighting for orders because you get orders ahead of time and can plan accordingly
You don't have to drive a specific car or meet tough requirements
You can create your schedule in advance
10. Eaze
Eaze is one of the most unique DoorDash alternatives because you deliver cannabis, not restaurant food. It's primarily located in California, where delivery drivers can earn money delivering safe and legal cannabis to customers.
Earnings Potential
Eaze drivers make an average of $21 an hour.
Pros
Eaze works with over 100 retail partners to offer drivers many chances to earn good money
You can create your schedule in the Eaze app
Has great customer service
Cons
Customer orders can be canceled without notice and after you've already left
You must be 21 to drive for Eaze
Only available in California and Michigan
Standout Features
Eaze drivers earn an hourly rate plus mileage reimbursement
Offers a discreet way for customers to get legal cannabis
The app offers many opportunities for promotions
11. Dolly
If you have a truck, van, or trailer, you can make money helping people move large items. You get paid to lift, load, and deliver the items.
The app connects people who need muscles or a car to move items with those who have them. You can make money doing both the lifting and the driving or just the lifting.
Earnings Potential
Dolly Helpers, who lift and drive the items, make $50 an hour, and Dolly Hands, who only lift, make $35 an hour.
Pros
You set your schedule, working when you want
You can make money even if you don't have a large van or truck
You may earn tips in addition to the hourly rate
Cons
Requires a lot of manual labor
You must be at least 21 years old to drive and lift for Dolly (lifters only need to be 18)
You must be able to lift 75 pounds
Standout Features
You can work as an assistant to someone who is already a Dolly Helper, working as a subcontractor
You may have a variety of tasks, limiting burnout or boredom
Dolly pays twice a week
12. Gopuff
Gopuff drivers deliver groceries, cleaning supplies, medication (OTC), and home essentials from a single location. You don't have to drive around to different stores or restaurants. Instead, you pick up your orders from the micro-fulfillment center and deliver them directly to the customer.
Earnings Potential
The average Gopuff driver makes $19 an hour.
Pros
You only have to go to one central location for all orders
You can schedule shifts a week in advance or work on demand
Gopuff has a guaranteed minimum rate for drivers
Cons
Gopuff has a smaller audience than DoorDash
The delivery services hours are limited
Lower pay than other DoorDash alternatives
Standout Features
The micro fulfillment centers are the largest pull of GoPuff; not having to drive around to multiple stores and restaurants is a big bonus
You can deliver a large variety of items
You can only work when Gopuff is open, which isn't as long as most retailers and restaurants
Which Driving App Makes the Most Money?
There isn't a guaranteed income with any of the delivery apps. The key is to find the most active app in your area that works with the hours you can deliver. Many people double up and deliver for multiple apps to make the most money.
For example, if DoorDash is popular in your area, but Uber Eats isn't, you should work for DoorDash. But you might also consider working for Instacart or Amazon Flex to maximize your earnings, taking advantage of the most popular times within each app.
DoorDash Alternatives – The Bottom Line
DoorDash product and food ordering alternatives are a great way to make more money. Whether you deliver food for DoorDash but want to stop or want to diversify your income, these apps make it easy to reach your goals.
Samantha Hawrylack is a personal finance expert and full-time entrepreneur with a passion for writing and SEO. She holds a Bachelor's in Finance and Master's in Business Administration and previously worked for Vanguard, where she held Series 7 and 63 licenses. Her work has been featured in publications like Grow, MSN, CNBC, Ladders, Rocket Mortgage, Quicken Loans, Clever Girl Finance, Credit Donkey, Crediful, Investing Answers, Well Kept Wallet, AllCards, Mama and Money, and Concreit, among others. She writes in personal finance, real estate, credit, entrepreneurship, credit card, student loan, mortgage, personal loan, insurance, debt management, business, productivity, and career niches.