Do you find yourself overspending in your food budget category each month? Looking for the cheapest meal delivery service option? Sticking to a set amount can be difficult when life is busy. You may not have time to food shop or cook, and you'll turn to fast food or going out to eat instead. While convenient, going against your budget can seriously derail your financial goals, and even your health. When these overages happen month after month, it can have long-term effects. Meal delivery services have both saved us money and time each month!
Going over our food budget has been the top budgeting problem we have personally experienced. With both of us having day jobs and side hustles, as well as being in Masters programs, sometimes it feels impossible to have the time to food shop and cook. These factors, along with daily household responsibilities, have had a huge effect on our own budget. Many months in the past we have found that we didn't save as much as we could have because we went over budget in our food category.
We knew that something had to change because sticking to our goals is very important to us. While our schedules can't change right now, we decided to experiment with different ways of shopping and cooking. We have always tried to meal prep in large portions, but sometimes the monotony can become boring night after night.
How Did We Break the Cycle?
We started to sign up for meal services that would bring meals and recipes right to our door in a climate controlled box. This eliminated the need to food shop or even think about what was for dinner most nights because everything was portioned out and simple recipes were provided.
At first, we thought this was too good to be true. We thought that these type of services would actually hurt our budget more. But we were wrong! The difference in price per meal for these meal services helped us keep our budget under control in comparison to the price per meal for going out to eat!
Now you may wonder which meal services to use, what options they have, and how expensive it is going to be. We had the same questions. That is why we conducted an experiment with several companies, and we are going to share the results of months of research with you!
Here are the cheapest meal delivery service options we tried:
HelloFresh
Plated
Blue Apron
Home Chef
Freshly
Sunbasket
Green Chef
EveryPlate
Marley Spoon
Graze*
UrthBox*
* These are snack services, but still portioned out nicely and are affordable
The Process
When conducting your own experiment, the most important factor to remember is to sign up using the promotional deals. Then, cancel after the first week and sign up for the next service.
Many times you will find that the companies will send you another promotional deal in a few weeks to come back. This will allow you to cycle between different services and always receive a deal. We did this with a few of the services.
Additionally, you will want to utilize Rakuten (formerly eBates) to receive additional money back on your purchase, like we did. Sign up for Rakuten here. If you'd like to read our review of this cash back program, check out our blog post here.
Why Try the Cheapest Meal Delivery Service Options?
Pros
You can select how many nights you want the meal service that week and how many people you need to cook for.
There are different options for those with food allergies/preferences (i.e. Keto, Vegan, Vegetarian, Gluten-Free, Organic, Dairy-Free, Plant-based, Paleo, etc). While other recipes can allow for substitutions of ingredients.
If you like to meal prep, you can order the same meal for multiple nights so you can cook all at once.
The meals arrive with the perfect amount of ingredients, helping you save on wasted food and make cooking easier.
Step-by-step instructions are easy to follow and most recipes accommodate busy schedules.
The meals are pre-portioned (yet filling) which allows for portion control. The majority of these healthy meals are significantly less calories than going out to eat at a restaurant.
These services are like having a personal chef that sends you a healthy meal delivery when you need it.
Even if you're a picky eater, you're sure to find something that catches your eye.
Did we mention that some of these are ready-to-eat meals delivered to your door? Super easy and convenient.
Cons
You need to submit your meal choices well in advance.
Each box comes with a ton of packaging! (but it's recyclable)
Without promotional deals, the price per meal can be expensive.
The recipe may require you to have common kitchen gadgets (pots, plan, strainer, tongs, etc) or ingredients (olive oil, salt, pepper, etc).
Delivery windows can be long – sometimes between 8 AM and 8 PM – which can be difficult for those who don't want their items sitting on their porch all day or who were planning on making one of the meals for dinner that night.
You need to remember to cancel or skip your deliveries in time or you will be charged for the corresponding week. To ensure you don't get charged full price, try canceling or skipping the same day you receive your box.
You'll still have to cook except with Freshly (and the snack services)
Although you're eating healthy meals, because some are prepared meals, you have to eat them relatively soon after delivery.
Some of our delicious creations!
The Experiment- Trying the Cheapest Meal Delivery Service Options
Please note that each week we elected for: 3 meals X 2 people = 6 total meals (except for Freshly). The pictures represent what we paid for each delivery.
Each meal service gives you the option to select how many nights you would like to cook and for how many people. They also give you the option for how often you would like boxes to be delivered. Each of the cheapest meal delivery service companies provides a different number of meals to choose from each week. For instance, while Plated allows you to choose from roughly 20 recipes each week, Blue Apron allows for 8 choices.
All ingredients are fresh, pre-measured, and packaged well. They all attempt to give their customers quick meals with quality ingredients.
Some of the companies focus on organic ingredients. Others, like Marley Spoon and SunBasket, are phenomenal when it comes to dietary options (paleo, gluten-free, vegan, diabetes-friendly, low-calorie, low-carb, among others)!
All of the websites were extremely easy to navigate and make meal selections. The pricing structures were very clearly laid out, so no surprises!
Week 1: HelloFresh
Satay Chicken Stir-Fry with Peanut Sauce and Broccoli over Rice
Gorgeous Greens Farro Bowl with Roasted Zucchini and Asparagus
Tilapia with Scallion Sriracha Pesto
Want to try HelloFresh? Click here to save $40 on your 1st order.
---
Week 2: Plated
Dijon-Balsamic Salmon with Herbed Potatoes and Arugula
Seared Steak with Bok Choy, Sweet Potato Mash, and Wasabi Butter
Sesame-Orange Shrimp with Bok Choy Fried Rice
This food delivery service (Plated) is currently discontinued.
---
Week 3: Blue Apron
Seared Steaks & Roasted Potatoes with Balsamic-Glazed Mushrooms & Shallot
Broccoli & Cheddar Quiche with Roasted Potatoes
Coconut Curry Noodle Bowl with Mushrooms & Bok Choy
Want to try Blue Apron? Click here to get started for as little as $7.99 per serving.
---
Week 4: Home Chef
Baja Shrimp Bowl with Jalapeno and Tortilla Strips
Cali Turkey Burger with Guacamole and Sweet Potatoes
Sweet Chili Pork Lettuce Wrap with Crispy Rice Noodles
Want to try Home Chef? Click here to save $35 on your 1st order.
---
Week 5: Freshly
Buffalo Chicken with Loaded Cauliflower
Turkey Shepherd's Pie
Southwest Chicken Bowl with Cilantro-Lime Vinaigrette
Chicken Teriyaki with Brown Rice & Veggies
Balsamic-Glazed Turkey with Roasted Mushrooms & Sweet Potatoes
Chicken & Rice Pilaf with Green Beans & Butternut Squash
Note: These are pre-cooked meals, so there's no preparation needed!
Want to try Freshly? Click here for $90 off between your first three boxes.
---
Week 6: SunBasket
Tempeh Sloppy Joes with Tangy Coleslaw and Pickled Jalapenos
Poached Salmon Salad with Tahini Goddess Dressing
Spicy Chorizo and Tomatillo Chili with Sweet Potato and Pumpkin Seeds
Want to try SunBasket? Click here to try it out!
---
Week 7: Green Chef
Beef Saltado Patties with Bell Pepper & Red Onion, Aji Verde Sauce, and Sweet Potato Fries
One-pan Pork Stir-fry with XO Sauce Cremini Mushrooms, Carrots, Ginger & Cabbage
Steaks & Mashed Sweet Potatoes with Porcini Mushrooms & Onion Pan Sauce
Want to try Green Chef? Click here to check it out and save up to $130 on your first order.
---
Week 8: EveryPlate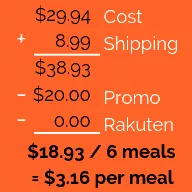 Hoisin Glazed Pork Meatloaf with Wasabi Mashed Potatoes and Green Beans
Cheesy Chick Sausage Skillet with Bell Pepper
Diner-Style Patty Melts with Caramelized Onions and Carrot Fries
Want to try EveryPlate? Get it now for $1.39/meal!
---
Week 9: Marley Spoon
Chick Puttanesca with Zucchini & Orzo
Shrimp & Tomato Panzanella with Carmelized Lemons & Spinach
Steak & Mustard Pan Sauce with Roasted Sweet Potato & Kale
Snack Services:
We figured if we're going to try a bunch of meal delivery services, we might as well try some snack services too. We tend to eat our normal go-to snacks over and over again, so mixing things up a bit was a nice change for us.
Graze
What we ordered: FREE Box of 4 Snacks
Fantastic Forest Fruits
Smokin' Protein Kick
Snickerdoodle Dip
Anytime Energizer
Want to try Graze? Click here to receive your 1st box half off!
---
UrthBox
What we ordered: Small Vegan Box of 12+ Snacks, PLUS FREE BOX
$29.99 – $0 Shipping – $10 Honey coupon code = $19.99
Want to try UrthBox? Click here to see what they're all about!
Our Results
Total Spent: $233.56
Total # of Meals: 54
Average Cost Per Meal: $4.33
Cheapest: HelloFresh ($1.66/meal)
Most Expensive: Green Chef ($7.49/meal)
Favorites: Freshly, Plated, UrthBox
Freshly: Pre-made meals made things super convenient and they didn't taste like a microwaved dinner!
Plated: We loved the meals we got from plated – not complicated to make and introduced us to some new foods!
Urthbox: We really enjoyed having a variety of different snacks available – John even got some dairy free chocolate!
Least Favorite: SunBasket
The meals were a little bit more complex which meant slightly more time-consuming to make. Although it gave us a challenge, we didn't care for the slightly fancier meals and ingredients. We see this being great for someone who has dietary restrictions/preferences though!
All of these meal services met our expectations overall. We wouldn't steer someone away from any of these. We were definitely hesitant before starting this experiment but found that we really enjoy having meal delivery services.
Our Experience
In comparison to going out to eat or grabbing take-out, this experiment certainly helped our food budget! Our average cost per meal was $4.33, and it is considerably less than the price of a meal at a restaurant.
It was definitely a luxury picking meals online and having the exact amount of ingredients shipped right to our door. Not only did this eliminate an immense amount of food waste, but it took the thought out of preparation. There was time saved in not having to food shop as much and the meals themselves required short preparation times.
If you took a look at the pictures of some of our meals above, you would think they look like plates you would get at a fine restaurant. However, we never would have made some of these dishes if it weren't for the meal delivery services challenging our tastes and cooking ability.
The experience pushed us out of our comfort zone by enabling us to try new foods, like bok choy, and improve our cooking techniques with easy-to-follow recipe cards. We now know how to cook with different kinds of foods and spices that we hadn't used before.
With John not being able to have dairy products, we were initially worried that it would be difficult to find recipes that he could have. However, we were pleasantly surprised that many of the food delivery services gave options based on food preferences or allergies. For those that didn't, it was easy to make substitutions based on the recipe.
Additionally, we have had great customer service from each company we've contacted. They've been efficient, proactive, and courteous. They even have requested feedback and did everything in their power to make sure that we were satisfied.
Repeat Offers
We took part in repeated offers from Freshly, Plated, and Blue Apron. Freshly and Plated were by choice, while Blue Apron was due to the fact that I forgot to cancel the weekly plan in time (oops!)! It's a good thing their meals were delicious!
You may find that the meal delivery service you choose will have their promotion offer on your first box, or even spread out over your first couple boxes. As mentioned above, we canceled after our first week to avoid ordering a box without a promotion deal. However, we have received dozens of emails with follow-up deals from each service after we canceled.
If you're patient, this will allow you to circulate back to each delivery service after the initial promotion while still receiving a deal. Some deals may be identical to the initial promotion while others are less. If you enjoy the service, it's definitely worth taking up any repeat offers!
Recommendations
We recommend giving a meal delivery service a try if you:
consistently overspend on your food budget by going out to dinner or picking up take-out
have little time to cook, food shop, or meal prep
get tired of eating the same meals over and over and want to try new things!
If you want to avoid TV dinners and want to eat healthy
Samantha Hawrylack is a personal finance expert and full-time entrepreneur with a passion for writing and SEO. She holds a Bachelor's in Finance and Master's in Business Administration and previously worked for Vanguard, where she held Series 7 and 63 licenses. Her work has been featured in publications like Grow, MSN, CNBC, Ladders, Rocket Mortgage, Quicken Loans, Clever Girl Finance, Credit Donkey, Crediful, Investing Answers, Well Kept Wallet, AllCards, Mama and Money, and Concreit, among others. She writes in personal finance, real estate, credit, entrepreneurship, credit card, student loan, mortgage, personal loan, insurance, debt management, business, productivity, and career niches.