cancel their cable plans and cut the cord
. These companies can offer subscriptions that reduce your cable bill budget while still allowing you to stream your favorite shows and movies. Going through your budget with a fine tooth comb is important so that you can both
lower your existing bills and eliminate the line items that don't add value to your life
. The less expenses you have every month, the more you can save towards
financial independence and early retirement
. However, one topic that doesn't get talked about often when discussing whether or not to cut the cord is your
internet
bill. Many times your cable and internet subscriptions are packaged together which can result in bundled savings that
beat the savings of cutting the cord.
Disadvantages to Cutting the Cord
There are many caveats that come along with canceling your cable bill.
Internet Speeds. You'll still need good internet speeds to be able to stream TV shows and movies online without it constantly buffering. Purchasing an internet-only package can be pricey, so you may be giving up quality. Because of this, you probably won't be saving as much money as you think.
Multiple Devices. You may not be able to stream on more than one device at a time, unless they have an upgraded package that you're willing to pay for. This can be annoying for couples, roommates and families.
Channel Limitations. A streaming service may not have all of the channels, shows and movies you enjoy. It also may not offer local channels like the news, sports and weather.
Accessibility. Online TV options may not be as easy to browse through as your TV guide and OnDemand. Specialty Networks. They also may not include or offer upgraded options for networks like HBO, Starz, Showtime and Encore.
Wasted Time. Most services don't offer a DVR option, which means that you have to be available every time a show is on or you'll miss it. This takes away the convenience of being able to record your programs and watch in your free time. Let's face it – if you're trying to improve your financial situation, you're probably too busy hustling to adhere to scheduled TV time! Few online TV options offer the ability to record, and if they do, it's expensive.
Price Comparisons
Depending on what level of services you are interested in keeping, cutting the cord may not make sense for you while trying to reduce your cable bill.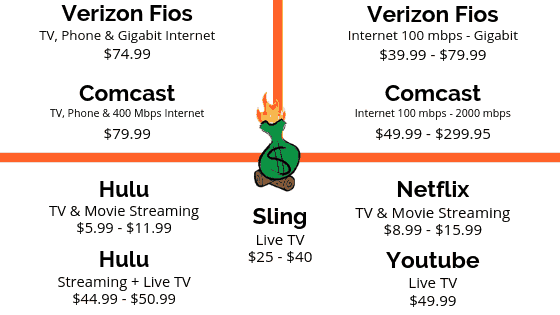 Reasons To Keep Cable and Internet
There are so many articles that discuss reasons to get rid of cable and cut the cord to save money. So, I wanted to cover reasons
why you should keep your cable and internet service
. You can still save money by doing so and enjoy your favorite shows and movies guilt free!
Bundled Savings
We have found that
the price of quality internet alone is so high
that it wouldn't make sense for us to cancel cable and purchase streaming services separately. If you bundle tv, internet and sometimes phone services, you will save money. Triple play services tend to be the best deal with the deepest discounts. If you don't need a phone line, just don't plug it in like us! This also allows you to have one recurring monthly bill, rather than several spread across your accounts.
Special Features
You will have access to additional features like
DVR and OnDemand
through your cable and internet provider. With streaming services, these options will either
cost extra
or you will have
to subscribe to a few different companies
to have access. Having the ability to record your favorite shows allows you to
prioritize the most important things in your life
knowing that you can
relax and watch
the program at a later time. It's always good to have the bonus of skipping commercials, too. Additionally, renting a movie in the comfort of your home sure does
beat the price of a movie ticket and snacks at your local theater!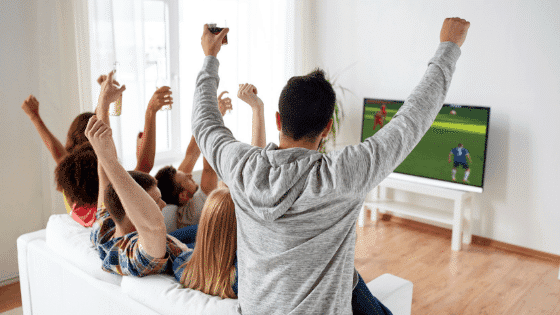 7 Easy Ways to Save Money by Reducing Your Cable and Internet Bill
There are many different ways that you can
save on your cable bill
while still keeping the convenience. With these tips, you don't have to
cut the cord
!
Triple Play Options via 2-year Agreement
You'll be surprised to see that companies like Verizon and Comcast offer discounts when you
bundle your cable, internet and phone services
. We have found that it is
cheaper
to bundle these three compared with just cable and internet, or internet alone! So, we take advantage of this offering and just
don't plug in our phone line
.
Work Discounts
Many
employers offer discounts
on services like your cable bill. We are able to save $10 per month as a result of this. Check with your company to see what additional savings they offer you. You may be surprised at what other discounts you find! Be careful with employer discounts though – because some negate new customer pricing and may actually not reduce your cable bill at all.
Make sure you ask before you apply for it!
Sales Discounts
In the past, we have found that if you
call or chat with the sales team
, you can
ask for additional savings
. They have quotas to reach, so we have been able to save an additional $10 per month (on top of the new customer pricing) by
just asking what else they can offer
.
New Customer Pricing
Like us, I'm sure you see advertisements all the time about new customer pricing. Cable and internet providers will offer
deep discounts
if you are a new customer with them or
if you switch over from another provider
. They may even reimburse you for any switching fees and/or give you free installation! You may receive deals on features such as:
HD TV Channel Packages
HBO, Starz, Showtime, Cinemax & Encore Access
DVR Storage, Increased Number of Shows Recorded At Once & Viewing Recordings in Multiple rooms
Pause & Play Live TV Services
Gigabit or Upgraded Internet Connections
Limit the Number of Boxes You Rent
John and I save money on our TV bill by limiting the number of cable boxes we rent to hook-up. While we have three TVs in our home,
we only rent two cable boxes
. This allows us to take advantage of cable, OnDemand and DVR services only in the rooms we watch TV the most.
Buy a Router
Instead of renting an internet router and taking on the monthly fee that comes with it, consider
purchasing a router
instead. We have our own router and we are saving money on our monthly bill. It is also
better quality
than the one that our provider would give us which results in quicker speeds. This can actually provide a
stronger
internet connection, so you actually may be able to
buy a cheaper package
!
Use Auto-Pay & Go Paperless
Some providers may offer a monthly discount if you elect to
pay automatically
each month through your checking account or credit card. Because it saves them money on paper and postage, they may also give you a discount
receive your statements by email
.
The Best Kept Secret to Reducing Your Cable and Internet Bill
I'm going to share with you the fail-proof way that John and I
saved
thousands
on our cable and internet bill since 2014. Many people do not know this secret, but when followed step-by-step it results in
huge savings
! We use this trick instead of renewing our contract because it results in the greatest savings. Recently we put this plan into place yet again because our provider wanted to
increase our monthly bill by $50
just to renew our services after the 2-year agreement. Knowing that you've reduced your cable bill to as low as you possibly can get it is such a great feeling.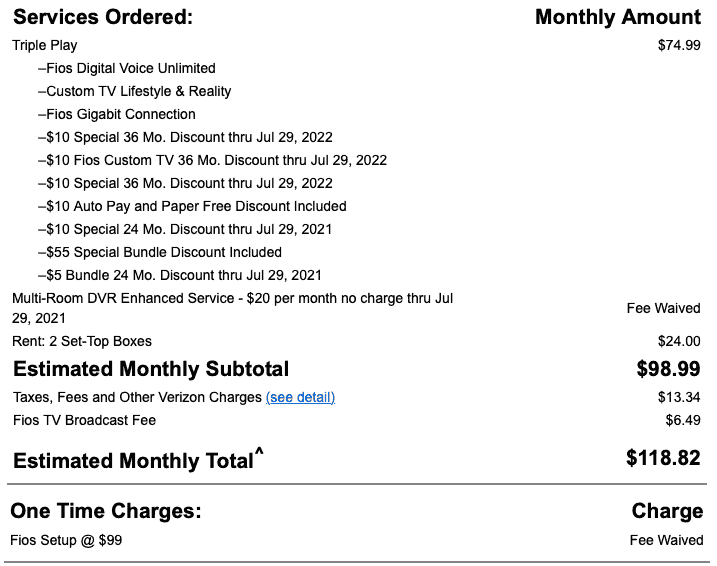 The picture above shows the deal we were able to negotiate with Verizon Fios by chatting a representative in July 2019. One of us signed up as a "new customer" after cancellation of the previous agreement. It includes the following features and discounts:
Fios Digital Voice Unlimited (We don't even connect a home phone)
Custom TV Package (Gotta have our HGTV and Food Network 🥰)
2 years of FREE Multi-room DVR Enhanced Service
Fios GIGABIT Connection (every blogger's dream! 😃)
2 HD Set-Top Boxes
FREE Installation
Numerous Discounts that we were given for being a new customer, bundling services and setting up auto-pay/paperless
Additional discounts simply because I asked for them
You could easily compare this to the
travel hacking
we do. We
churn through our cable agreement
every two years so that we always have new customer pricing. This is very similar to moving through credit cards for the travel rewards points.
How We Did It
1. Research new customer pricing.
Take advantage of the tips listed above to maximize your discounts!
2. Put only one person's name on the contract.
Sign up as a new customer with the cable and internet provider of your choice. If you have a spouse, partner or roommate, make sure that only one of your name's is on the contract.
3. Cancel after your 2-year contract is up.
Call and ask to cancel your services effective the date the contract is up. You can do this about a month in advance.
4. Schedule new service.
You, your spouse, partner or roommate will set up a service contract under a new name as a new customer. You can schedule the start of the new service ahead of time, but it will have to be installed
at least 24 hours after
your old service ends. This is one of the hidden rules to making this hack work.
5. Send back your old equipment.
The company will send you a shipping box so that you can ship back your old equipment after your service ends.
Final Thoughts
Every penny counts when you're trying to reduce your expenses and
maximize your budget
. This allows you to save more towards
financial independence
and possibly an early retirement! While there are benefits to keeping cable and internet, it ultimately comes down to what you value. We value the services we have, so these hacks worked well for us. It may be different for you, and you'll need to
decide if cutting the cord is right for you
. However, if you never watch tv or log on the computer, you may be able to get away with just using a smartphone or nothing at all!
Have you tried this method of reducing your cable and internet bill? Have other tips to share? Let us know in the comments!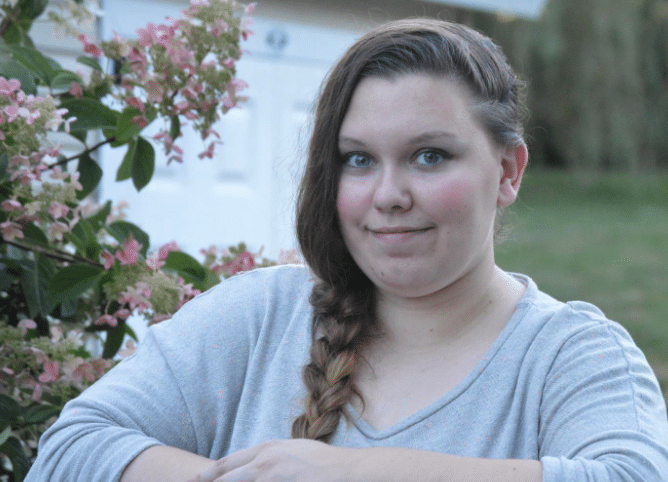 Samantha uses her BS in Finance and MBA to help others control their finances through budgeting, saving, investing, side hustles, and travel hacking. Due to following the FIRE Movement's principles, she was able to quit her high-stress job in the financial services industry in July 2019 to pursue her side hustles. She is now a full-time entrepreneur, freelancing coach, and blogger.