If investing in the stock market worries you or you're looking for diversification, alternative investing platforms may offer what you need. Investors can invest in collectibles, art, wine, real estate, and much more to offset their dependence on the stock market and grow their portfolios.
What Are Alternative Investing Platforms?
Alternative investing platforms allow investors to buy alternative assets or assets other than stocks, bonds, and real estate. The internet has made it possible to invest in almost anything you can think of, but of course, you should be aware of the risks, just like with traditional investments.
How Do Alternative Investments Work?
Alternative investments work much like any other investment. You invest money in the opportunity, and if the asset appreciates, you earn money selling it for a profit. There are hundreds of alternative investment platforms, each that offers investment opportunities in different alternative investments. The nice thing about the platforms is that many are crowdsourced and can offer low minimum investment requirements.
Types of Alternative Investments
The sky's the limit when investing in alternative assets. Some of the most common options include:
Should Alternatives Be a Part of My Investment Portfolio?
It would be best if you diversified your portfolio regardless of your beliefs or how you want to invest. Putting all your eggs in one basket is riskier than even an investor with a high-risk tolerance can withstand. When you diversify your portfolio, you ensure that your losses are offset by a gain, or at least give your portfolio a better chance at that happening.
Benefits and Drawbacks of Alternative Investing Platforms
Like any investment, there are good and bad sides to using alternative investments as a part of your investment strategies.
Pros:
It helps you diversify your portfolio
Lowers your portfolio's risk
It doesn't have much correlation to the stock market
Cons:
Many alternative investments have a long hold period
They can be hard to sell on the secondary market in a pinch
They are fairly new to the scene, so no one knows the long-term risk yet
Best Real Estate Alternative Investment Platforms
The best alternative investment platforms offer something for everyone. Whether you want to invest in something abstract, like art, or something straightforward, like real estate, there are opportunities for investors with any form of risk tolerance.
1. Arrived Homes
Non-accredited investors can use Arrived Homes to invest in rental properties. All investors need is $100, and they can call themselves real estate investors. The low minimum investment requirement allows investors to diversify and invest in several properties. In addition, Arrived Homes pays quarterly dividends from the rental income and shares the profits when they sell the properties.
2. CrowdStreet
CrowdStreet is a private equity real estate investment platform. It's for accredited investors only and has a $25,000 minimum investment requirement. As a result, you'll invest in commercial real estate opportunities that would be off-limits for most retail investors. Investors must keep their money invested for several years, but you choose the properties individually after reading the due diligence done by CrowdStreet.
Accredited Investors Only
CrowdStreet
4.5
If you're an accredited investor, then you don't want to miss your chance to explore what CrowdStreet has to offer. Find a variety of real estate investments.
Minimum Investment: $25,000
Accredited Investors Only?: Yes
Pros:
Easy-to-use Website
Passive Income
Access to a Variety of Real Estate Investments
Cons:
Illiquid
High Minimum Investments
Only for Accredited Investors
Higher-Risk Investments
Get Started
3. Vinovest
Wine probably doesn't come to mind when you think of investment opportunities, but it's possible with Vinovest. Like a traditional Robo-advisor, you complete a questionnaire to determine your risk tolerance, and then Vinovest compiles a portfolio based on your answers.
It takes them two to three weeks to create your portfolio, and you can buy and sell bottles as you want. You don't have to worry about storage or insurance; you can invest starting at $1,000. You can even cash in your wines and request them for consumption, allowing you to earn profits and enjoy fine wine.
4. Fundrise
Fundrise is another real estate crowdfunding platform. They offer investment tiers starting at $10 up to $100,000. Fundrise is a real estate investment trust, a company that invests in real estate and sells shares of its company to investors, who then become real estate investors.
Your investment is automatically diversified across various commercial real estate properties, and they pay quarterly dividends along with capital appreciation. Fundrise investments require a holding period of five years or longer.
A Top Real Estate Investing Pick
Fundrise
5.0
Fundrise makes it easy for anyone to get started as a real estate investor. Available in all 50 states, started in 2010 - Fundrise has become one of the most popular eREIT investments available.
Minimum Investment: $10
Accredited Investors Only?: No
Pros:
Small Minimum Investment Requirement
IRA Accounts Available
Open to ALL Investors
Variety of Investment Options
User Friendly Platform
Cons:
Difficult to Understand Fee Structure
Illiquid
More Complex Investments Requiring Diligence of Investors
Get Started
5. FarmTogether
Farmland is another great alternative investment opportunity. With FarmTogether, you can invest in agricultural real estate if you are an accredited investor. In addition, farmland is usually a great hedge against inflation; you earn dividends from operating yield and profits from selling the land.
The minimum investment for FarmTogether is $15,000, and it pays an average annual return of 6% to 13%.
6. Propel(x)
Propel(x) is a crowdsourcing platform for angel investment products. The platform is for accredited investors only and offers investments in startup companies that have just started their fundraising efforts. Most of the companies on the list use unique technology and have incredible potential for growth. Propel(x) requires a $5,000 initial investment with upfront fees ranging from 2-7.5%. Investments have an average timeline of five to seven years.
7. Roofstock
Roofstock helps investors invest in real estate, but with a twist. Most Roofstock marketplace properties are turnkey properties with tenants and an active lease. In addition, Roofstock does the due diligence on the properties, so investors have all the information they need.
Investors can view the information online, including an in-depth tour. You don't have to visit the property, so you can invest in real estate across the country. Roofstock includes free financial management software for real estate investors and can also match you with property management companies to manage the properties.
Accredited investors also have the option to invest in Roofstock One, a platform with curated portfolios of single-family residential real estate. The portfolio consists of fractionalized investments, so investors only need $5,000 to start.
Invest Turnkey Today
Roofstock
4.0
Find turnkey properties online with Roofstock. The accessibility to properties is endless; find your next investment property today!
Minimum Investment: $0, but $5,000 for Roofstock One
Accredited Investors Only?: No, but required for Roofstock One
Pros:
Vetting Process for Properties
Low Fees for Buyers/Sellers
Optional Property Management Service
Available in Multiple States
Turnkey Accessible Properties
Cons:
Requires a Large Down Payment
Must be Accredited to Invest in Roofstock One
Not Available in All Markets
Get Started
8. Groundfloor
Groundfloor is an alternative investment platform for real estate. Instead of investing in a property's equity, you invest in short-term real estate loans. Non-accredited investors can invest on the platform, and the minimum investment is as low as $10. In addition, all debts are in the first lien position, and you can choose your investments or use Groundfloor's automatic investing tools to invest in new projects often.
Investments payout every four to 12 months and offer a savings account for any funds you want to invest conservatively. The Stairs savings account pays a 4%-6% interest rate based on the condition of the market.
Groundfloor
4.0
Minimum Investment: $0
Accredited Investors Only?: No
Pros:
Short-term Investments
Low Minimum Investment
No Investor Fees
Variety of Investment Options
Cons:
Higher Risk of Loan Default
No Equity Investing Option
Lack of Diversification
Get Started
9. RealtyMogul
RealtyMogul offers real estate investment trusts for non-accredited investors and private lending deals for accredited investors. RealtyMogul has two REITs to choose from – income and growth. The income REIT invests in equity and debt in commercial properties and is non-traded. The REIT aims to provide monthly income and has an average annual return of 6% – 8%.
The growth REIT invests in apartment buildings they predict will grow based on their high occupancy and income levels. The goal is to pay investors quarterly dividends throughout the life of the investment and then a large amount of capital appreciation after renovations and repositioning of the properties.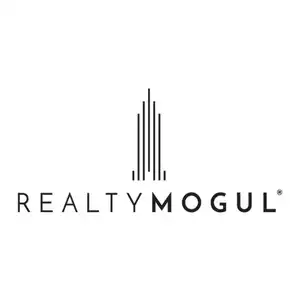 RealtyMogul
4.0
Minimum Investment: $5,000
Accredited Investors Only?: No
Pros:
REIT Buyback Program
High Targeted Rates of Return
Multiple Investment Opportunities
Cons:
High Minimum Investments
Complex Fee Structures depending on the Investment
Mostly Non-traded REITs
Get Started
10. AcreTrader
AcreTrader makes investing in farmland possible for many investors. Investors earn cash dividends from the rent farmers pay for the land and capital appreciation when the land is sold.
The average annual return is 3% – 5% on low-yield properties and an average 12% annual return overall. AcreTrader offers a diversified portfolio, and they do the necessary due diligence, so you don't need to know the first thing about farmland and can invest in it confidently.
Most AcreTrader investors hold their shares for 5 – 10 years but receive annual dividends and a return of principal plus capital appreciation earned throughout your hold period when you sell your shares.
11. DiversyFund
DiversyFund makes real estate investing possible for anyone. They have a low minimum investment requirement of $500, and non-accredited investors can invest. So you don't need experience in real estate investing or a lot of money.
DiversyFund invests primarily in multifamily developments. Sometimes they also purchase apartment complexes and turn them into multifamily properties. As a result, their real estate investments typically outperform the S&P 500 and are a great hedge against inflation.
A Top Real Estate Investing Pick
Diversyfund
4.0
Diversify your real estate investment portfolio with Diversyfund. With a minimum investment of $500, Diversyfund is a low-cost way to invest in the real estate market.
Minimum Investment: $500
Accredited Investors Only?: No
Pros:
Accepts Non-accredited Investors
Low Minimum Investment ($500)
No Maintenance Fees
Access to Commercial and Established Properties
Cons:
Illiquid Investments
Limited Investment Options
Slow ROI (Roughly 3-5 Years)
Get Started
Best RoboAdvisors & Finance Investment Sites
If you want a hands-off approach to investing or something more passive, Robo-advisors may be a good option. Here are some of the best Robo-advisors for alternative investments.
12. Public.com
Public.com is a Robo-advisor that offers traditional investments, such as stocks, ETFs, and crypto. However, they also offer alternative investments such as luxury arts, fine art, real estate, and music royalties (coming soon).
The Public.com app is easy to use and provides the necessary information about each asset before you invest. In addition, Public.com has a social feed so you can see what other investors are doing to get more ideas. They also have a large educational section to help investors learn about alternative investments and how they work.
Earn Free Stock For Signing Up
Public.com
4.5
With Public, you can Invest in stocks, funds, and cryptocurrencies - all in one place! Follow other investors, invest with context, and build your ideal portfolio!
Pros:
Fractional Shares
Variety of Educational Learning Tools
Free Research and Analytics Tools
Variety of Trading, Including Cryptocurrencies
Supportive Community
Cons:
Mobile Platform (App-based)
No Futures, Margins, or Options trading
Limited Account Types
Required Fee for Access to Advanced Analytic Data
Sign Up
13. Yieldstreet
Yieldstreet's offerings make them a leader in alternative investments. They have investments for accredited and non-accredited investors. In addition, they continually add to their list of assets, including art, real estate, crypto, transportation, short-term notes, private equity, private credit, and structured notes.
Yieldstreet's team has a strict vetting process, only allowing 10% of the billions of opportunities presented to them, and 90% of their investments hit their target annually.
9.7% Net Annualized Return
Yieldstreet
4.5
Minimum Investment: $2,500 - $10,000
Accredited Investors Only?: No, however some opportunities are for accredited investors only.
Pros:
Access to a Wide Range of Investments
Investments Backed by Assets
Cons:
Illiquid
Must be an accredited investor for many opportunities
Limited time availability of offerings
Get Started
14. Vaulted
Vaulted is a mobile app that allows you to invest in gold from your phone. You buy physical gold, and they store it for you in the Royal Canadian Mint, where it was manufactured. It remains in the vault until you instruct them to deliver it to you or sell it.
It takes only seconds to invest in gold using Vaulted. It works just like transferring money from one account to another.
Best Crypto Alternative Investment Platforms
No discussion about alternative investments would be complete without cryptocurrency. This up-and-coming investment opportunity has increased in popularity in recent years. Here are two of the most popular alternative investing platforms to trade crypto.
15. Coinbase
Coinbase is a great starter cryptocurrency platform. It has a user-friendly interface and plenty of educational opportunities. They even reward users who complete educational content with cryptocurrency.
Coinbase allows investors to buy and sell crypto, store it in a crypto wallet, and easily manage their portfolio. In addition, investors can buy and sell hundreds of cryptocurrency types, including Bitcoin and Dogecoin, and use their Coinbase debit cards to earn crypto rewards when shopping at partner retailers.
Get Paid To Learn About Crypto
Coinbase
4.5
One of the most popular exchanges for cryptocurrency investors. Coinbase offers dozens of currencies, including Bitcoin and Ethereum. Enjoy an easy-to-use, secure platform to invest and trade cryptocurrencies. Get up to $400 in rewards with Coinbase.
Minimum Investment: $1
Accredited Investors Only?: No
Pros:
Available in Dozens of Countries
Easily Make Deposits and Withdrawals
Very User-Friendly Interface
Cons:
Fee structure can be difficult to understand
Potentially high transaction fees
Poor Customer Service
Sign Up
Best Fine Art, Music & Collectibles Investment Platforms
If your interests in collecting are in even more alternative investments, like art, music, or collectibles, you have many options, including the following.
16. Collectable
Collectable lets investors invest in rare collectibles from around the world. Collectable curates the assets and files an offering circular with the Securities and Exchange Commission. Collectable sells fractional shares and has a minimum investment requirement of $10. You can hold the shares long-term, sell shares on the secondary market, or exit the investment if there is a buyout.
17. Masterworks
Masterworks helps art enthusiasts invest in high-value artwork. Investors can buy fractional shares of rare art pieces and hold their investment for 3 – 10 years. Then, when the art is sold, all investors receive a portion of the proceeds based on their initial investment. There is also a secondary market where investors can trade shares. Art doesn't have a strong correlation with the stock market, so it can be a good way to diversify your portfolio. This platform has annual management fees of 1.5%.
18. Alto
Alto is another alternative investment platform for retirement accounts. Rather than investing in stocks and bonds, you can invest in cryptocurrency, real estate, and fine art in your IRA.
Alto IRA is a self-directed IRA and partners with 75+ companies offering different investments. Some popular partners include Masterworks, FarmTogether, and Grayscale.
The minimum investment requirement varies by company, and they offer a CryptoIRA that connects directly to the Coinbase platform, allowing you to invest in crypto for retirement.
19. Wefunder
If you've always dreamt of investing in startups, but don't have the capital, now you can with Wefunder. Investors can help startup companies by investing with as little as $100. You choose the companies and ideas you believe in, read the specs, and decide how much you want to invest. The investments are long-term and high-risk, but the reward may be worth it.
20. OpenSea
OpenSea is an NFT marketplace where investors trade non-fungible tokens tied to digital assets. You can invest in videos, pictures, audio clips, and more. NFTs represent anything that's in the digital sphere.
To start, you must buy digital currency, hold it in a digital wallet, and then purchase NFTs with your currency.
21. Vint
Vint is another platform to invest in fine wine. The collections are curated by wine experts who find the rarest wines and liquors. Vint sources, stores, and securitizes the assets. They file with the SEC and offer fractional shares to investors. They time the sale of each asset carefully to maximize the profits each investor earns.
Best Investing in Businesses
If you want to invest in a business without owning the business yourself, there are many platforms to help you reach your goals.
22. AngelList
AngelList is for accredited investors only. It's a platform that allows investors to help venture capitalists and angel investors invest in startups. You can invest in single companies or join the AngelList Access Fund, a diversified asset across 150+ companies.
23. CircleUp
CircleUp gives accredited investors a chance to invest in breakthrough brands. The investments are typically long-term and depend on the exit timing, which can take years. CircleUp invests in brands making a name for themselves with disruptive technology or plans in the food, beverage, household, pet, and beauty industries.
24. Mainvest
Investors can invest in small businesses with as little as $100 on Mainvest. All businesses are vetted, and you create your own portfolio. You may earn returns throughout your investment based on the business's profits and always have real-time access to quarterly revenue reports and updates.
25. Onfolio
Onfolio buys and sells online businesses and now offers preferred shares to investors. It pays a 12% fixed return. Onfolio finds successful online businesses with high margins and helps them grow even further. They pay dividends to shareholders quarterly.
26. Empire Flippers
Empire Flippers buys and sells online businesses. They post new businesses for sale every Monday and specialize in businesses worth $10,000 – $1,000,000. You choose the websites you're most interested in and read the provided due diligence to determine which makes sense for your portfolio.
27. Republic
Republic offers vetted opportunities in the real estate market, startups, crypto, and video games. All investments are backed by popular venture capitalists and have undergone extensive vetting. Starting investment costs vary and start as low as $10.
28. Prosper
On Prosper, investors can invest in personal loans. This peer-to-peer platform helps borrowers who need $2,000 – $50,000 in loans. In addition, investors can invest a small amount in several loans to diversify their portfolio. The minimum investment required is $25.
Investors earn monthly income from the interest paid with the borrower's monthly payments.
29. EquityBee
EquityBee is an opportunity for accredited investors to fund employees' stock options, allowing you to invest in startups. You choose the investments based on company valuations and receive a percentage of the future stock value by investing in employee stock options.
You May Also Like: Groundfloor Review 2023: Real Estate Investing for Everyone
Considerations Before Diving Into Alternative Investing
Alternative investments are riskier than typical investments. Therefore, before investing in these platforms, consider the following:
Risk tolerance – How much can you stand to lose? Are you investing money you need for retirement, or is this "fun money" that you want to see if you can make it grow?
Type of investor – Not all alternative assets are open to all investors. Some are only for accredited investors.
Timeline – Many alternative assets have a long-term timeline. Make sure you can keep the funds tied up for the length required.
Liquidity – Ensure you don't invest funds in alternative assets that you need soon.
Keeping Track of Your Alternative Investment Platforms and Assets
Keeping track of your alternative assets is important; if you diversify yourself, you might have a long line of alternative investments. Find a platform that keeps all your investments in one place, like Kubera, a personal balance sheet that interacts with hundreds of brokers.
Kubera automatically calculates your IRR along with traditional returns on common indices.
Best Alternative Investment Opportunities FAQs
Which Are The Best Alternative Investment Platforms?
The best alternative investment platforms are the platforms you qualify to invest on and that offer investment options you believe in. Many platforms are for accredited investors only, and others are for anyone. Look at the minimum investment required, necessary timeline, and risk to decide which platform is best for you.
Are Alternative Investments Safe?
No investment is 100% safe, but alternative investments are riskier. Therefore, it's best to diversify your portfolio to ensure you don't lose everything, especially if you have long-term goals like retirement.
Is ETF an Alternative Investment?
Few ETFs are alternative investments because most highly correlate to the stock or bond market. However, you can invest in a few if you're looking for more diversification from the stock market.
Is Bitcoin an Alternative Investment?
Bitcoin, which invests in cryptocurrency, is an alternative investment. Crypto isn't tied to the stock market and often reacts the opposite of what the market does.
Are Mutual Funds Alternative Investments?
Mutual funds that invest in non-typical investments that aren't correlated with the stock market are alternative investments.
Is Blackrock an Alternative Investment?
Mutual funds that invest in non-typical investments that aren't correlated with the stock market are alternative investments.
The Bottom Line: Alternative Investments
Alternative investing platforms open up many possibilities for other investments. So if you're ready to try your hand and different asset classes, find your favorite platform and give alternative investing a shot!
Samantha Hawrylack is a personal finance expert and full-time entrepreneur with a passion for writing and SEO. She holds a Bachelor's in Finance and Master's in Business Administration and previously worked for Vanguard, where she held Series 7 and 63 licenses. Her work has been featured in publications like Grow, MSN, CNBC, Ladders, Rocket Mortgage, Quicken Loans, Clever Girl Finance, Credit Donkey, Crediful, Investing Answers, Well Kept Wallet, AllCards, Mama and Money, and Concreit, among others. She writes in personal finance, real estate, credit, entrepreneurship, credit card, student loan, mortgage, personal loan, insurance, debt management, business, productivity, and career niches.