We want everyone to have a budget every single month. That's why we are comparing two of the most popular budget apps – Mint and You Need A Budget (YNAB). These are two of the most popular online budgeting app, so let's break down YNAB vs Mint!
Budget apps are designed to make your life easier and can help you manage:
Money going out
Money coming in
Growing your money through investments
Reducing debt to reach financial freedom
All of these elements combined help you gain total control and know what's actually happening with your money. That's an essential skill for being able to reach savings goals, travel using cash, and retire before you're 80.
Let's see how the Mint app compares to the YNAB app and if one reigns supreme as the best money management app.
What is YNAB?
You Need A Budget or YNAB is personal budgeting software that also utilizes an app for easy access.
YNAB is a proactive money management tool. What I mean by this is that it looks to prevent money pitfalls by analyzing the money you currently have and preparing for future expenses. Because of this, YNAB has a heavy focus on saving and giving every dollar a specific job.
YNAB does not want you to be caught off guard with your finances and get into debt. This is why the software comes with a myriad of financial workshops so you can gain and keep control of your finances. These free online workshops help you learn all about their personal finance software.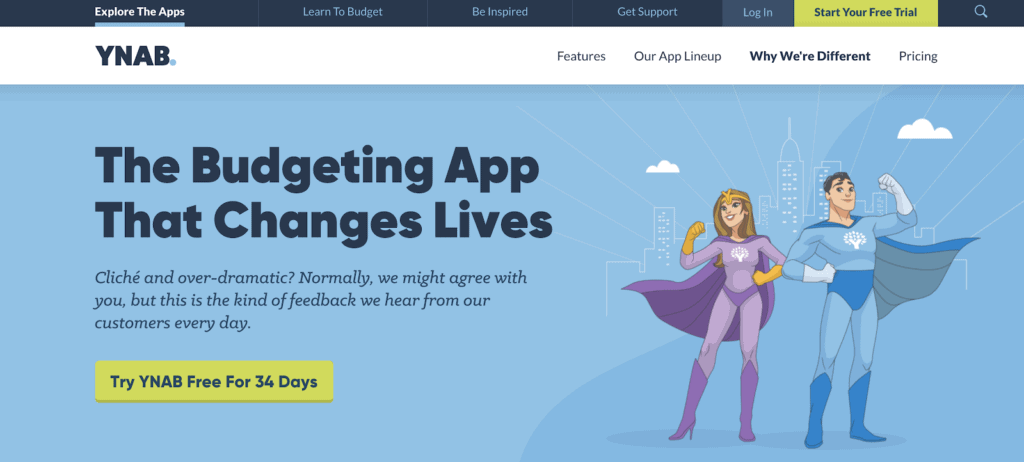 How Much Does YNAB Cost Per Month?
YNAB is not free, but you can sign up for a 34-day free trial. After this you can opt for one of two payment plans:
1. Monthly Plan
The monthly YNAB plan costs 11.99 per month and it can be canceled at any time.
2. Annual Plan
The annual plan is $84 for an entire year, a $59 savings. You make this payment at once.
While paying for a budgeting app might be considered a major downfall, YNAB does offer a 100% money-back guarantee, if at any point you don't feel like you have more control over your money.
Don't forget, you get your first 34 days free using the trial!
What is Mint?
Mint is a free budgeting service that provides one place for you to effortlessly manage your finances. Intuit acquired Mint in 2009, and it has become one of the many Intuit tools.
The Mint platform provides a broad view of your finances by allowing you to link all your accounts, inputting your property for value estimations, and offering a free credit report.
You can link any and all accounts with Mint and they will update every time you log into the Mint platform. Mint automatically categorizes transactions. You can adjust these categories and add new subcategories. Mint will remember this if the transaction occurs again.
Mint is a way to look at where your money is at now while making it easy to plan for the future with a budget tool, goal setting, and easy to set bill reminders.
Of course, you don't need to use any of these tools. Instead, you could use Mint as a way to track your Net Worth which can be found on your account dashboard.
How Much Does Mint Cost Per Month?
Mint is free and there are no hidden fees. They do not offer any sort of upgrade plans for the budgeting tool itself. But, you can sign up for premium access to your credit report for a small fee.
In addition to this, Mint has some unobtrusive ads on the main page of your dashboard. They also recommend "ways to save" financial products from partners who kick back a fee to them if you click the ad.

YNAB vs. Mint: What Features Do They Both Offer?
Both Mint and YNAB are easy to access across multiple devices and offer similar features for money management. What makes either of these the best personal finance tracker really lies with what you need on a personal level.
Below are the features that both apps excel at, even if they hold slightly different approaches.
Effortlessly link accounts
In both budget apps, you can effortlessly link your checking account, savings account, investment accounts, credit cards and more by entering your login information and granting authorization. Both of these tools let you keep track of your cash flow and begin to help you with your financial planning journey!
Got Debts? This will help you get out of debt faster by showing you how much money goes where each month. These will also track when you pay off things too.
Mint will automatically update your accounts every time your log into the account, while YNAB will update your linked accounts daily.
YNAB and Mint are only compatible with financial institutions in North America. If you have offshore accounts they won't allow you to link them.
Comprehensive and customizable budgeting tools
Each app offers a comprehensive and customizable budget tool. Mint and YNAB come with default categories for your expenses. However, Mint does not allow you to remove the defaults while YNAB does.
Mint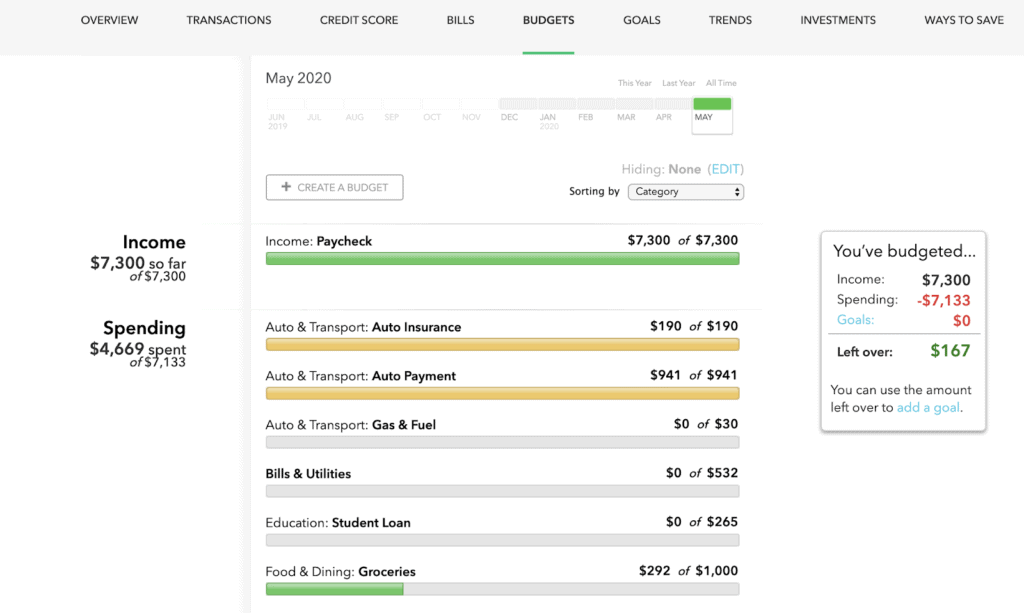 In both apps, you can add your own categories to build out a customized budget.
YNAB allows multiple level budgeting where you can nest categories together (visually); as opposed to Mint where they will show up in a linear fashion.
YNAB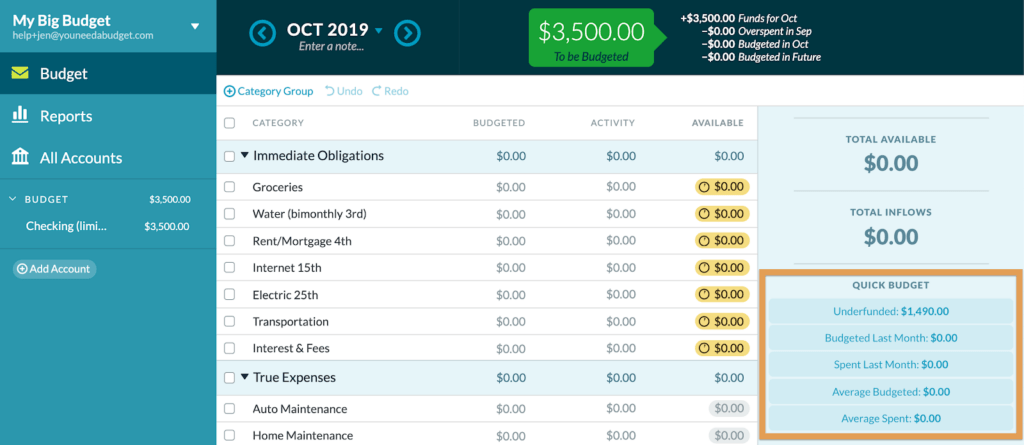 Regardless of the framework and visuals, both budget apps allow you to:
Set savings goals
Track expenses and categorize them as you wish
Avoid late fees or missing bills with reminders and alerts
Manage your spending with spend trackers and alerts
Spending alerts
Speaking of alerts, both Mint and YNAB are stellar at keeping you on your toes about your finances through e-mail and/or text alerts. This helps you stick to your monthly budget, and align with your longterm financial goals! Having these notifications turned on lets you know when you're spending an obscene amount of money so you can adjust to spend less.
You can manage and set these alerts to notify you of things like:
Spending an unusual amount in a budget category
When you have been paid
Bill reminders
Late fees or any fee charged to your account
Mint will also notify you of changes to your credit report through their free credit monitoring tool.
Free financial resources
Both Mint and YNAB have a blog and numerous free financial resources. These can be a helpful resource If you are new to:
You Need A Budget vs Mint: How Are They Different?
There is a reason these two budgeting platforms have their own fan clubs. They each have different features that set them apart and create the divide of Mint fans and YNAB followers.
Below are the major differences between YNAB and Mint.
YNAB offers unlinked account feature, while Mint only allows linked accounts
YNAB does allow you to manually add an account, and manually upload your account transactions each month.
Mint does not have this feature and requires that every account be linked.
This can be problematic if you have an account with a very small company that does not support account linking.
Mint has more financial tools than YNAB
YNAB is only about budgeting, and they are really good at it. However, YNAB does not offer other financial tools like Mint does.
Mint allows you to monitor your credit report, track your investments, and review your net worth.
YNAB has a stellar onboarding process and support, while Mint is DIY
YNAB has a quick and efficient onboarding process with easy to reach customer support via e-mail and lots of online tutorials. In fact, excellent customer service is a common note in YNAB reviews posted online. Mint, on the other hand, is DIY when it comes to setting up and starting your budget.
Mint also offers value estimations of property, while YNAB does not
In addition to linked accounts, Mint allows you to add value estimations of the property you own including automobiles, homes, and investments.
This contributes to your estimated Net Worth, which Mint prominently displays on your account dashboard. YNAB is only about budgeting, so Net Worth reports and property values are not a part of their service.
YNAB forces you to assign every dollar to your budget, while Mint lets you choose
One of YNAB's guiding principles is to "Give Every Dollar A Job", and they are serious about it. Every single transaction must be added to your budget. Mint, allows you to leave transactions out of your budget and dangle in an "other" category if you choose.
Mint vs YNAB: Which One Is Better?
Both the Mint app and the YNAB app are full feature budgeting apps that can help you manage your money and understand your true expenses each month.
I can't say that Mint is better than YNAB or vice versa. The answer depends on your own financial situation and what you need the budgeting app to do.
Below is a summary of their features to help you make this decision.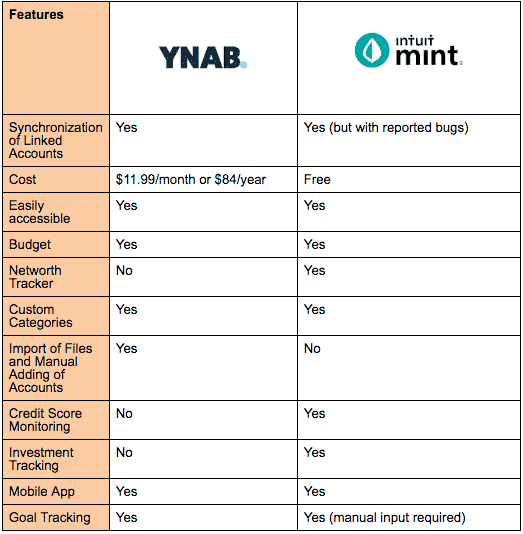 FAQ about Mint and YNAB
The answer to this question depends on how familiar you are with budgeting in general. If you have already kept a budget using a spreadsheet or another app, then the learning curve should be relatively small for the Mint app. If you are new to budgeting, it is DIY with no onboarding and you may need to rely on YouTube support videos.
That said, the intermediate or novice level budgeter may find that Mint's holistic financial approach a better fit for them.
What's the learning curve like for Mint?
If you have never created a budget before, then YNAB will offer you more support. They aim for a seamless onboarding process that walks you through each step. This makes learning easy for any new YNAB user, regardless of budget experience.
What is the learning curve like for YNAB?
If you have never created a budget before, then YNAB will offer you more support. They aim for a seamless onboarding process that walks you through each step. This makes learning easy for any new YNAB user, regardless of budget experience.
Does YNAB sell your data?
YNAB does not sell user data and never has in the past. You can review their data policies for more information.
Does Mint sell your data?
Mint does sell your data, although they do aggregate and anonymize the pool of data they sell to protect your privacy. Mint also sells general round-ups of data which they may however receive compensation from like how many retirement accounts people have, consumer spending, etc.
You can read more about Mint's data policies and how your information is protected on their website.
Read our article on the best budgeting tools!
Is YNAB safe?
YNAB has advanced security measures in place to keep your information safe. YNAB states, "Our entire infrastructure is built on Heroku, which in turn is built on the technology of Amazon Web Services (AWS). This is the same technology trusted by government agencies, including our favorite, the CIA."
You can find additional security information about YNAB on their website.
Is Mint safe?
Trusted by almost 20 million users, Mint is a part of Intuit financial tools, which also operates platforms like Quickbooks and TurboTax. This means they are used to handling sensitive financial information and use security measures including 128-bit SSL encryption, as well as monitoring through third-party sites.
Additionally, Mint hires hackers to test their system security on a regular basis. You can read more about Mint's security measures and protections for users on their website.
The Best Budget App is the One that You Will Use
Each budget app is easy to access and wants to help you get control of your finances (so do we!). Mint offers a big picture view of your finances, including your networth. But, Mint is DIY when it comes to budgeting and goal setting, so be prepared to look on YouTube for set up support.
YNAB is strictly about budgeting and they offer you plenty of tutorials in the onboarding process. YNAB's focus is on being prepared for future expenses, which means required savings and assigning every dollar a job. This means it can be a more stringent budgeting system.
Managing your money is an important skill to master, and whether you use pen and paper or expense tracking finance apps like these, you're taking the right steps! Build long term goals, learn how to create a budget that works for you and don't beat yourself up over small stuff.
Whether you're team #youneedabudget or team Mint, it's really up to you which budget app is better. It's called personal finance for a reason and we subscribe to the notion that the best budget app is the one that you will use. Give yourself the best balanced independent financial advice and stop living paycheck to paycheck.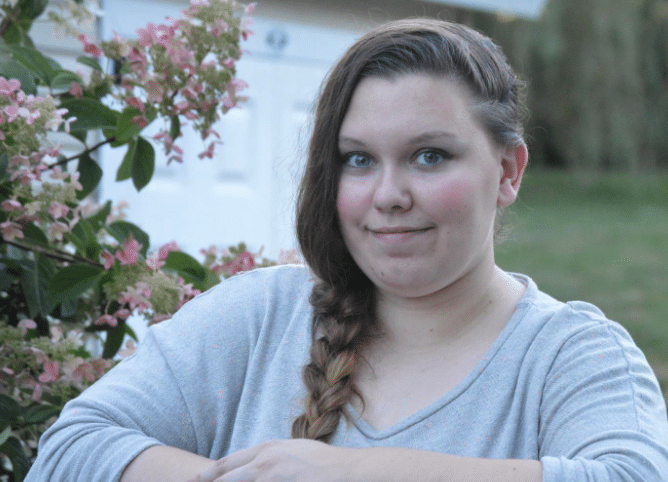 Samantha uses her BS in Finance and MBA to help others control their finances through budgeting, saving, investing, side hustles, and travel hacking. Due to following the FIRE Movement's principles, she was able to quit her high-stress job in the financial services industry in July 2019 to pursue her side hustles. She is now a full-time entrepreneur, freelancing coach, and blogger.