From the epic rap battle at the Plutus Awards to the lightbulbs going off in my head at the sessions, I'll always remember our first FinCon. Even despite the Washington D.C. traffic.
When we decided to purchase tickets, I was struggling with if I should go or not. I'm an introvert and networking is a struggle for me. I'll be honest and say that I was nervous going into FinCon because I didn't know what to expect.
However, my overall reflection on the experience is that FinCon is amazing! It's the perfect place to learn and grow yourself and your business. A strong FOMO (fear of missing out) overtook my fear of putting myself out there.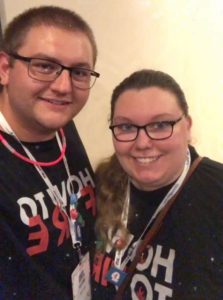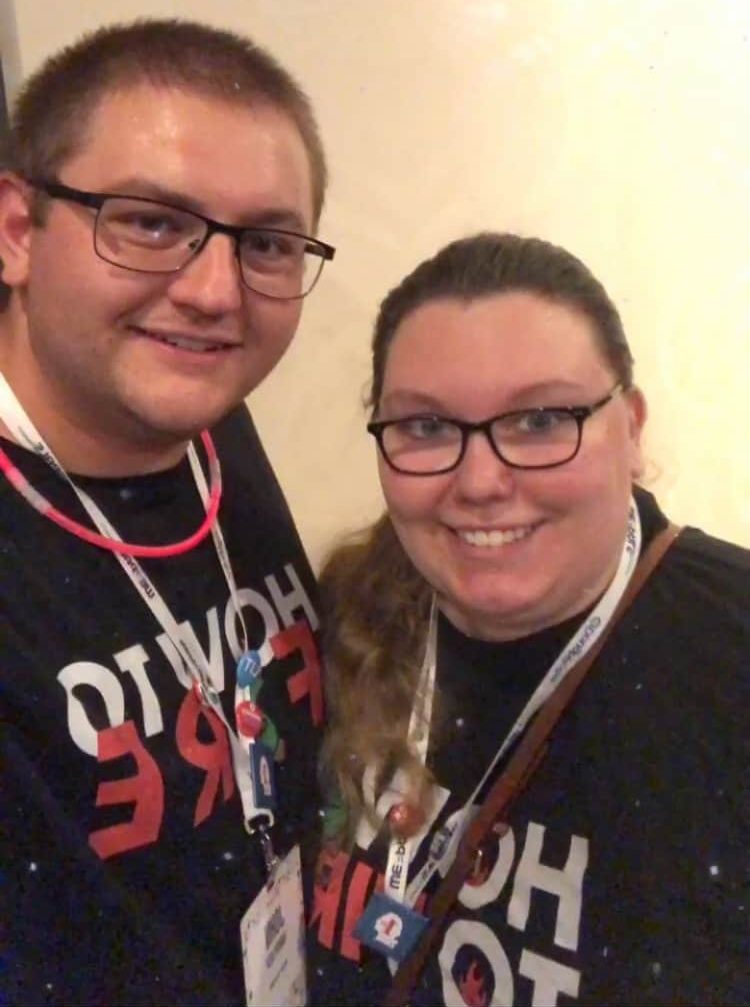 Money Nerds Unite at FinCon
It was an amazing feeling to meet some of the bloggers we have been interacting online with over the years. In addition, we enjoyed seeing our ChooseFI Philly friends and meeting others that follow from across the country.
Imposter Syndrome
As what we call a "baby blogger," it was pretty intimidating to interact with the big dogs we look up to. There was a worry in our minds that they would feel like we were wasting their time. But, we didn't get that feeling once despite our paranoia. They wanted to hear our story and get to know us.
We may have even geeked out over meeting J Money of Budgets Are Sexy. He was really gracious about it though, thank goodness.
6 FinCon Tips from an Introvert for Introverts
If you're introverted like me, you may wonder what the heck I was doing in Washington D.C. during a conference where I was knowingly putting myself into the fire. Well, let me tell you – it was one of the most rewarding "get out of your comfort zone, Sam" experiences I've had.
Everyone we met was so friendly and eager to connect because we all could bond over our love of being money nerds. There was no eye rolling like some of us get when we talk about finances in public back home. We were met with smiles, mutual understanding and thoughtful conversations.
I highly recommend that introverts give FinCon a try! I promise you'll enjoy it as long as you follow these tips:
1. Take an Extroverted Friend or Your Spouse Along
John was this person for me and it was easier (and less exhausting) to let him do most of the talking at times.
2. Don't Over Schedule Yourself
Take note of the sessions and events you want to go to ahead of time, but make sure you leave some open slots. You never know when you'll get to talking with someone or need that cat nap in your room.
3. Bring Lots of Cough Drops and Throat Lozenges With You
Trust me, you'll use all of them. Especially if you're not used to talking constantly. But, it doesn't help that it's so loud that that sometimes you have to yell for your conservations to be heard.
4. Take a Chance Going to the Opening and Closing Parties, as well as Happy Hours
Even if you only stop by for a little while, you'll still get your face out there and even may get some free drinks out of it. Have enough of them and you may not be so introverted for the rest of the night. After you've had enough, ask someone you're comfortable with to go hang out in a quieter location.
5. Prepare Your Elevator Speech Ahead of Time
You'll be less nervous if you know exactly what you want to say when the time comes to introduce yourself. Even prepare a few questions to keep the other person talking.
6. Make Sure You Have Everything You'll Need
Keep a checklist of what you need to bring with you when you're out and about at FinCon. You'll be more comfortable knowing you're prepared for any situation. Keep pens, your business cards, a small notebook and an anchor charger on your list.
Here's a few examples of items we brought with us.
Other FinCon Tips
Ok, we'll include you extroverts in this round. Here are some general FinCon tips you should know.
Check-in Early. The lines to check-in to the hotel are so crazy that they were putting people on waiting lists for their room to be ready.
Get a mini fridge if not included. Again, you'll want to check-in early because they run out fast! We didn't get one but wish we did, it would've been worth the $25 to have cold water.
Show up extra early to the sessions. They are packed! We had to miss first-timers orientation because there wasn't enough space. They ended up kicking people out of the room, and we didn't have time to make it up.
Plan enough space for freebies. You'll be taking a bunch of t-shirts and other goodies home with you, so make sure you have the room in your luggage.
Remember to stay hydrated and eat. There were a couple days where we were on the go so much that it was 8pm before we knew it and we hadn't eaten all day. Bring snacks that you can take along with you and invite others to meet you for meals.
Seriously, wear what you're comfortable in. This isn't one of those times where you're told casual but you get there and everyone else is dressed up. We wore our blog shirts, jeans and sneakers the entire time and didn't feel out of place once.
Try eating dinner away from the hotel if there's time. You'll save money and be able to hear the conversations you're having. Us introverts will appreciate the quieter setting, too.
Stay the extra night. Some of you may wonder if you should head home on Saturday or spend the extra money to stay the night. We're telling you to budget for the extra night! You'll get the chance to enjoy the closing festivities and unwind a bit before heading back home.
Bring sunscreen if you plan on visiting the area. Many people choose to come a day early and spend the day seeing the sights. Don't get stuck in the sun without any. If you need transportation to get around, try using Uber instead of a Taxi. Your wallet will thank you.
Cash is King. Make sure you bring some cash in addition to your favorite Chase card. It's not unusual to see many FinCon attendees paying for drinks and meals with this credit card.
Put your business on autopilot before you go because you won't have time to work while you're there. Content Creators this means to schedule out your posts, emails and social media. Freelancers finish up those final tasks, and Advisors gray out your calendars! It's important to be fully focused while you're there.
Rep your brand. Feel free to make shirts and business cards to share your brand with others. It will make it easy for people to find you. Just make sure that you order them with plenty of time to spare. Props to those who make a media kit and put the QR code on the back of their business card.
Download the FinCon app ahead of time. You'll need it for the conference schedule, map of the venue, and to connect with other FinCon attendees.
First time at FinCon? Check out the What's Up Next Podcast (Episode 46), where John is a guest. They discussed everything you need to know.
ChooseFI Foundation Party
One of my favorite events was easily the happy hour held at the Hilton for the celebration of the new ChooseFI Foundation. We met a couple there that we really connected with. They were on the community pass, and it was nice to talk with people our age who understand our FIRE passions. We even found out that they don't live very far from us!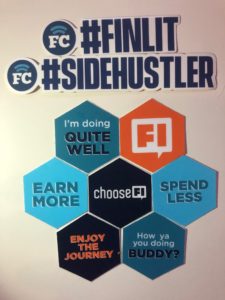 I also had the pleasure of meeting Jonathan! John's met him and Brad in the past because he admin's the ChooseFI Philly group on Facebook, and has even been on their podcast. We're huge fans! You bet we were cheering for them when they won not one, but TWO Plutus Awards for Podcast of the Year and Best Financial Independence/Early Retirement Podcast.
For those of you who aren't familiar, they have big plans to bring financial literacy to everyone through education, including schools around the country. It's definitely a cause we're behind, and we're excited to see where it goes.
You can check them out here. If you're feeling generous, they have a PayPal link on their contact page for donations.
Check out John's feature on the ChooseFI podcast. It's Episode 129R: Focused Work Ethic.
10th Annual Plutus Awards at FinCon
The Plutus Awards was a great opportunity to celebrate everyone's work over the past year. We're blessed to be amongst such talented and passionate people in the personal finance community. We highly recommend that you add the event to your conference schedule.
Congratulations to the Winners!
These recognitions are all so well-deserved. If you'd like to take a look at who won awards for their blog, book, podcast or personal impact, check that out here.
Achievements Video
The Plutus Awards team put together a video about what's happened in the past year, and everyone had the chance to submit their victories over the past year.
For some it was the trip of a lifetime, for others it was retiring or getting engaged. But, the most important thing I got out of this video is the meaning behind it.
Yes, the journey to financial freedom is important. It's important to track the steps taken and help others do the same. But, the whole point is to see where it takes you and the dreams it allows you to reach.
Creating Our Own Closing Party: The Takeaways from FinCon
John and I cut out of the Red, White and Blue closing party a little early to spend some time reflecting over a few drinks before heading home in the morning. Another couple on the community pass even looked up our blog from our shirts and came over to chat!
We didn't even have to ask each other if we were going next year, it was "next year we should…" At the bar, we used this time to reaffirm our business goals and lay out a plan to tackle them this coming year, which is much easier now that I'm working from home full-time.
Our knowledge has grown so much over the past year, both in blogging and FIRE/personal finance. We are extremely grateful for that. It's crazy to think about where we were a year ago and where we are now. It just makes us hopeful for what the next year will bring and I think FinCon will always be a reminder of that for us.
Want to join us at the next FinCon? Click here to get all the details and reserve your spot when ticket sales begin!
If you attended FinCon in the past, what were your takeaways? Will you go back?

I want to hear from you Introverts as well! What's holding you back from going and/or what did you think?

Let us know in the comments. Hope to see you next time 🙂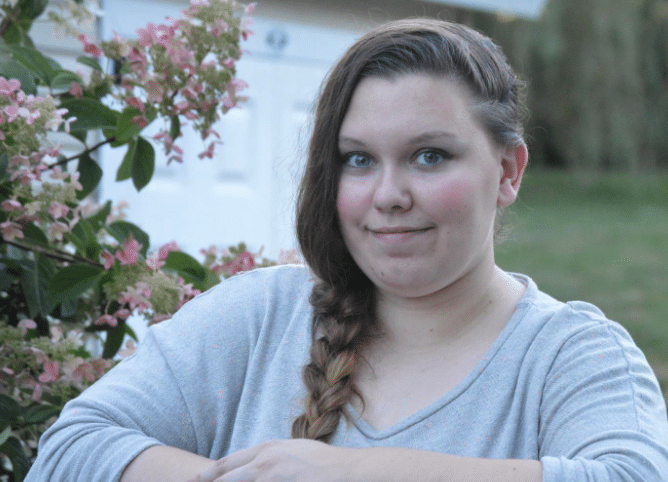 Samantha uses her BS in Finance and MBA to help others get control of their finances through budgeting, saving, investing, side hustles, and travel hacking. Due to following the FIRE Movement's principles, she was able to quit her high-stress job in the financial services industry in July 2019 to pursue her side hustles. She is now a full-time entrepreneur and blogger. When not working, she enjoys spending time with her dog "Simba" and traveling with her husband, John.